Theater-goers know that stage lighting can make or break a show. Whether the performance uses simple spotlights or a variety of light sources, too much or too little stage lighting can distract audiences and break their suspension of disbelief. When it comes to implementing professional stage lighting into your theater or auditorium, you need to know both the technical aspects and which types of stage lighting are best for specific performances.
At Illuminated Integration, we believe that the show must go on. From vibrant musicals to dramatic one-acts to single-speaker events, you must outfit your theater with the stage lighting necessary to showcase any performance. Proper theater lighting plus a few stage lighting tips and tricks mean your versatile lighting system can make every show a technical success.
What Is Theater Lighting?

Theater lighting is an integral component of all live shows. The theater is an immersive experience that encourages the audience to suspend their disbelief and become absorbed in the story taking place on stage. A well-written script, talented performers, exceptional stagecraft and well-executed direction can certainly set the stage for an unforgettable performance. However, there's one crucial element of the stage that will render all others virtually useless if it's absent — stage lighting. Without adequate professional stage lighting, even the most impressive performance can suffer.
Theater lighting from a technical perspective isn't too different from other types of lighting. Stage lighting may feature dozens or even hundreds of individual types of lighting sources, each one integrated into the lighting system to perform a specific function. The role of professional stage lighting is to work in tandem with the events on stage. In many ways, the lighting rig is a performer itself, as every light is intentionally used to shape the mood and visibility of the stage.
One of the advantages of having a customized professional stage lighting system is that you can use these resources for other events too. The technical aspects of stage lighting include many different types of light sources that you can control individually. Though plays and musicals rely on these lighting systems, theater lighting is also great for showcasing other events on stage. Concerts, presentations, ceremonies and worship services can all benefit from the versatility professional stage lighting provides.
6 Best Tips for Theater Lighting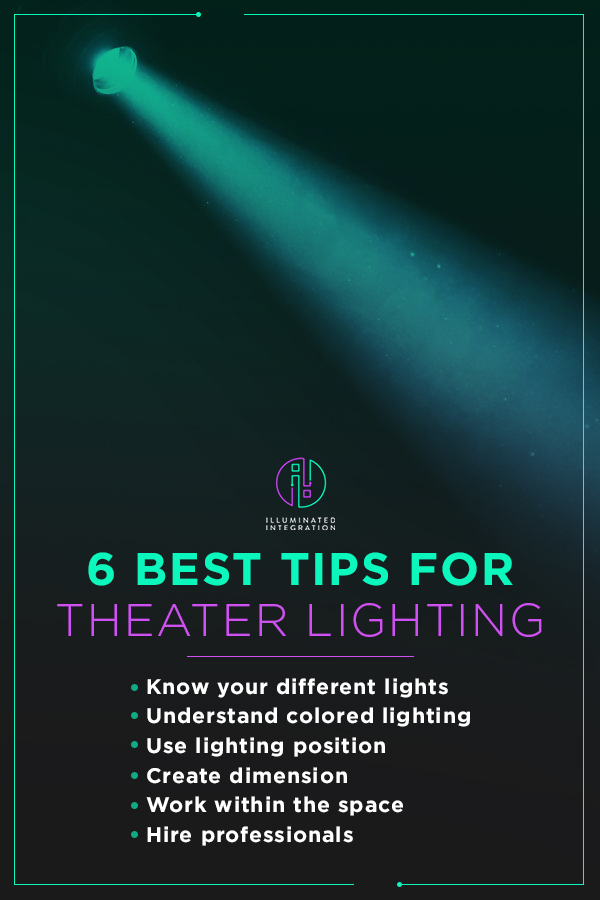 Whether you're upgrading an old system or starting a completely new stage lighting build from the ground up, every stage manager needs to:
Know your different lights: Understand the different types of stage lighting and how to use them.
Understand colored lighting: Acknowledge that colored lighting can be used to change the mood within an environment.
Use lighting position: Realize that lighting position either enhances or limits light source effectiveness.
Create dimension: Learn how to create impact with lighting patterns.
Work within the space: Know that the spatial limits of the stage and the performance in question will affect lighting techniques.
Hire professionals: Trust that professional stage lighting designers will help you design and integrate the best lighting system into your unique theater.
Know the Types of Stage Lighting
Before you learn how to use your theater lighting, you must first learn about the different types of stage lighting and the functions they perform. Let's look at five different types of common stage lighting sources found in many theater lighting systems.
Floodlight: A stage floodlight functions similar to a traditional floodlight. Both symmetric and asymmetric floodlight varieties are common in theater lighting systems. Symmetric floodlights are designed to distribute light evenly in all directions. Asymmetric floodlights do not provide a uniform distribution of light. Instead, they spread light further in one specific direction and are used to illuminate backdrops. Asymmetric floodlights use an asymmetric reflector, while traditional floodlights use a bowl-shaped reflector. Both types of floodlighting adequately illuminate the foreground and background of the stage.
Spotlight: A spotlight is a light source that projects a direct beam of light onto one deliberate area of the stage. Unlike other floodlights that provide illumination to wide areas, you can manipulate a spotlight to shine on specific spaces, while keeping its surroundings in darkness.
Fixed-Focus: Fixed-focus lights provide concentrated beams across wide areas of the stage.
Soft Lamp: You can use soft lamps to diffuse light and eliminate shadows near the performer, without impacting the direct lighting focused on them.
Broad Light: Broad lights are used to reduce shadows around specific areas of the stage.
Set the Mood With Color
Mixing the right color lighting is an essential element of your lighting rig. We commonly perceive colors in specific ways, such as associating red with passion or anger and blue with tranquility or contentment. Being able to mix various colors will enable you to set the appropriate mood on stage. Although you must be aware of how these colored lights will change as they interact with the set or props on your stage, you first need to understand how to create specific colors from your lighting source.
There are three ways to color a light source. RGB lighting, also known as additive color theory, uses red, green and blue LED lighting, along with white or amber light. CMY lighting, also known as subtractive color theory, uses cyan, magenta and yellow color wheels, which white light passes through. An uncommon source is colored gel lighting, which uses a gel to filter color from each light source.
Think About Lighting Position
As you build your lighting system, here are a few things to consider:
Where does the light need to come from? In some performances, direct lighting from the front of the stage won't meet your needs. You may need to consider having lighting directed at all sides of the stage.
How close is the audience? The right size and type of lighting system will provide the audience and performers with the visibility they need without being intrusive or distracting.
What types of performances will you stage host? Intimate duets and kid-friendly musicals will require different lighting cues coming from different positions.
When considering which types of ambient lighting, side lighting or stage lighting to use in each position, it's helpful to know the different types of light sources and how the size, shape and quality of light impact your stage.
There are four types of light — floodlights, focus spots, beam lights and profile spots.
Above, we discussed the two types of floodlighting: symmetrical and asymmetrical.
There are two types of focus spots:
Fresnel spots produce soft light beams.
Plano-Convex (PC) spots produce crisp, focused light beams.
Fresnel focus spots decrease in brightness from the center of the beam outward, making it easy to blend multiple Fresnel spots to light an area that requires more illumination than a spotlight, but less than a floodlight. PC spots are more focused and similar to a spotlight, as they showcase singular objects.
Beam lights shine a light beam onto the stage, typically someone on the stage. A beam light is a type of spotlight, but the pool of light that comes from a spotlight is often broader.
Profile spots include fixed beam profile spots, zoom profile spots and axial profile spots:
Axial profile spots are mounted on an axial and produce light beams with lower heat temperatures.
Zoom profile spots have adjustable lenses and framing shutters that can provide soft or hard-edged beams of light. These are useful when you need to set a specific beam for use in multiple contexts.
Fixed beam profile spots utilize filters to achieve different beam intensities. Fixed-focus spots have adjustable lenses ⁠— focus spots do not.
Create Dimension With Patterns

Although the stage is a three-dimensional space, you want to enhance this depth and create dimension with two-dimensional objects as well. During performances, the acting area is broken down into small sections of lighting areas, which you can plan out as a grid to ensure your lighting positions are correct. Each of these areas will require multiple types of stage lighting fixtures to light up other features of the stage that are not covered by the lighting that illuminates the general stage area. Specific lighting positions and patterns create dimension.
There are five different lighting positions you can use to create dimension. Front lighting and high side lighting are best used to showcase the upper body and face, while side lighting brings attention to the body of your performers. Down lighting creates an even wash of light that allows other lights to blend effectively across the stage. These four positions help illuminate the performers or primary set pieces, which is accentuated by backlighting. This helps achieve a 3D effect, separating the performers, sets and props from the background.
Typically, ellipsoidal reflector spotlights (ERS) and gobos will allow you to achieve a variety of effects within the light beams themselves — from softer lights circles to pattern and textured lights to accentuate the stage environment.
Consider the Play and Stage
Consider the lighting placement in other areas of your facility. From the atrium and box office to the house seating and backstage area, different types of lighting sources serve different purposes. For example, bright architectural lighting may be used to showcase your marquee, while subtle floor lighting may be used to guide audience members to and from their seats safely. When you're considering where and how to install your lighting system, look for guidance in other products and within the script itself.
Stage lighting sets the mood for each performance, and it's the stage manager's job to execute these cues to achieve the best results. A production's script is one of the first resources you should reference, as many include general lighting cues on each page. Read each act thoroughly, focusing on the details that make the production come alive. From a monologue to a thrilling climax, look for opportunities to utilize your lighting system to enhance these vital moments in the story appropriately.
You should also watch or attend productions performed in other venues. Take note of the type of performance — whether it's a vibrant musical, a Greek tragedy or a modern one-act — and observe how they execute their lighting cues. Take note of the different types of lighting and colors used, specifically how they enhance or limit the performers on stage. It's wise to view performances from well-funded production houses as well as community theaters so you can see how others use lighting systems creatively if they aren't as robust.
Trust Professional Stage Lighting Experts
Every stage deserves professional stage lighting that will showcase each talented performer. Whether you're integrating different types of stage lighting into your community theater, school auditorium, worship center or private entertainment venue, let the lighting experts at Illuminated Integration help you achieve the best setup possible. Our talented team of AVL designers has decades of combined industry experience, including dozens of customized lighting designs for theaters of all shapes and sizes. With Illuminated Integration, you'll receive a one-of-a-kind professional stage lighting system that meets your needs.
We approach every one of our AVL designs with communication and collaboration as our two highest priorities. Our design-build philosophy enables us to work with you through every step of the process to ensure that we deliver the results you desire. We have three goals:
To create a finished AVL system that is completely original and catered to your needs.
To provide you with a versatile theater lighting system that facilitates any performance or event you anticipate hosting.
To present you with a seamless and streamlined experience that keeps you involved from design to implementation, yet enables you to continue running your business without interference or inconvenience.
Our original AVL designs provide turnkey solutions limited only by your imagination. Regardless if you're outfitting a lighting system for a newly constructed space or if your theater is located in a historic structure, we can integrate the latest AVL equipment into any capacity. We'll also provide you with on-going long-term support after our installation is complete. Even if it's been years since we've integrated a professional stage lighting system into your theater, we'll happily be available to answer all your questions.
Professional Stage Lighting Installation From Illuminated Integration

The theater has captivated, entertained and inspired people of all ages for thousands of years. Today, the stories at play on the stage continue to provide audiences with memories that can last a lifetime. Showcase your performers with a one-of-a-kind, versatile theater lighting system from Illuminated Integration.
Our team of AVL design experts will explain how you can achieve your lighting goals through specific AVL system arrangements. We'll design the system, install it with your complete involvement and even teach you how to operate the devices. Give your performers the spotlight they deserve with a theater lighting system from Illuminated Integration. Contact us today to tell us about your vision of the ideal lighting setup.