Benefits of Using a Lighting Team

A lighting design does more than just brighten up your facility. Dynamic lighting can enhance mood, revolutionize a space and provide you with the versatility you need to accommodate a wide range of activities or events. Poorly designed lighting builds, and even quality systems that incorrectly utilize lighting within an area can have a dramatically negative impact on both the presenters and audience.
At Illuminated Integration, we believe the right lighting build can change the way people live, work, play and interact. Whether you're in need of a new lighting rig for your school auditorium or if you want to provide the optimal lighting for enhanced employee performance, you need to choose a lighting team that can deliver the result you desire. Let's look at the benefits of hiring an exceptional lighting team and how these advantages enhance your lighting capabilities for years to come.
General Knowledge & Experience
About 70% of people prefer to complete home improvement projects themselves instead of hiring a professional. While some DIY home renovations, car maintenance and other tasks can be safely completed by people with some knowledge and skill, DIY projects are rarely a wise choice in the workplace. Just as you would hire a trained and licensed electrician to tend to your facility's electrical system, you should rely on an experienced av team to handle your lighting system design, installation and maintenance.
A team of lighting design and integration professionals can be a vital resource. These individuals often have decades of combined experience in every aspect of lighting experience, including customizable design, lighting build implementation and long-term system management. Their first-hand experience, advanced training and wealth of knowledge allows them to bring your lighting goals to life. Teams that serve diverse industries also possess a creative advantage. They've overcome challenges on previous projects. They can use past experience to successfully design solutions that cater to your unique build.
Most importantly, the technical knowledge and industry experience that a lighting team brings to the table means a project is safe. DIY rigging or AVL system installation is usually isn't safe to do. No matter how resourceful you or your employees may be, the installation of a lighting system can be dangerous. No one should attempt to complete electrical or structural work on a facility without professional expertise. Hiring an av team to design, install and maintain your lighting system keeps employees, clients, students and audience members safe.
Listen & Collaborate

How do you envision a specific space and what do you want your lighting system to accomplish? The answers to these two questions should influence the entire process from design to implementation. After discussing every detail your idea for a lighting system, a team of lighting professionals can make it a reality.
Illuminated Integration believes that collaboration and discussion lead to successful results. The best way to begin the design process is with open and honest communication. We view each project as a partnership, which is why we strive to build a foundation that prioritizes and strengthens collaboration. Completing your vision is our goal and we acknowledge how vital cooperation is to the success of the project. Quite often, our clients' unique expertise and knowledge inspire our innovations.
You should never be left in the dark when it comes to your lighting design. If you enlist the help of a lighting team, be sure you're bringing on a partner who will listen and collaborate with you every step of the way. A new or enhanced lighting system is an important investment that deserves your complete satisfaction. Your lighting build should do more than illuminate a space. It should help express your organization's personality, fulfill your unique requirements and provide you with the turn-key solution you've envisioned.
Building Value
Value is a subjective term, especially when it comes to a lighting system. Some may find value in versatility while others believe that value is represented in the longevity and performance of a system. It's important that your finished project reflects what you value most. There are endless ways a lighting system can be integrated into your space and a number of high-quality resources that can enhance the environment. The key is to identify what's valuable to you.
Even if you're unsure of how to define your perfect lighting setup, you can still express in detail the hallmarks of what you believe your completed lighting system should possess. The AV team will work with you every step of the way to ensure that your vision and values are upheld from design into implementation.
Ideally, your av team will strive to preserve what you value while also providing you with added benefits. For instance, if you value versatility, they'll create a system that can perform a variety of functions that cater to the events or activities taking place within your space. In addition, they'll make sure that this system utilizes software and hardware that you can rely on for the long haul so you won't worry that any of your new lights or equipment will fail prematurely.
Stick to Your Budget

Of course, there are many facility managers or business owners that define value according based on financial information. That makes sense. Although AVL systems can enhance a space in a multitude of ways, at the end of the day, your lighting system is also a monetary investment. It should work with your long-term budget. When you're tasked with securing a lighting system while staying firm with a set budget, working with a professional lighting team has its benefits.
A sales representative or company should listen to your needs and understand what you're looking to spend. A trustworthy lighting team will be dedicated to achieving your vision while adhering to your budgetary needs. They'll create a design-build that includes every component you need and leaves out any costly additives you don't need. Along with designing a system that stays within your budget, they'll make sure that any future maintenance and upgrades required are all manageable according to your anticipated budgetary limitations. You don't need to overextend your budget for a dynamic system — you just need to work with a company that understands your budget restraints.
Embrace Challenging Opportunities
Every space is different, with its own challenges and opportunities. Newer facilities may be ready-made for high-tech integration and large-scale installations. Some of the settings that will benefit most from AVL implementation are often located in older buildings that are less technologically advanced. Places of worship, community centers, small museums, themed entertainment venues and academic institutions around the country have buildings with spatial and technical limitations.
Illuminated Integration's team of experts embrace the challenging opportunities presented by older buildings with open arms. Since every one of our light system designs is uniquely created after a thorough consultation with our client, we can identify and adapt to any limitations we believe the project faces. Using our industry knowledge and prior experience overcoming these obstacles, we can build a design that achieves your lighting goals despite whatever challenges present themselves.
One of the challenges that we welcome is the unknown. We understand that, although you might not have a clear picture of the next few years, the lighting needs of your facility may drastically change — and that's okay. A dynamic lighting team will acknowledge that technology and your unique needs will continue to evolve over time. As these changes occur, we'll be here to use our innovation and imagination to adapt your lighting system's versatility to cater to your current and future applications.
New Techniques & Ideas
There's more than meets the eye when it comes to lighting system design and implementation. While a corporate space or educational facility can choose to replace their old lighting system with a new build that features modern technology, we want all of our potential clients to realize that updated lighting systems do more than simply replace old bulbs with LED lights. From the school auditorium to conference rooms to building exteriors, the advances in lighting system capabilities can dramatically enhance these spaces.
When you hire a lighting team that has a reputation for delivering phenomenal results, you're gaining a partner that has a detailed knowledge of the latest lighting techniques and technologies available. Unless you're closely following the new developments within the industry, it's possible that you don't yet know the full scope and capabilities available in the most recent lighting system software. Everything from the color and texture of light to its coverage, softness and intensity can be adjusted instantly to meet your changing needs.
Perhaps more importantly, your trusted lighting team can bring new ideas to the table — some that may transform your space in ways you've never imagined. Experienced AVL professionals are talented not only in the physical implementation of lighting systems but also in their creative approach. They specialize in exterior, architectural, theatrical and house lighting, among other lighting contexts, and can help you think of out-of-the-box ideas that will bring your vision to life. The latest in technology combined with innovative ideas equals your ideal lighting system.
Seamless Experience for Busy Businesses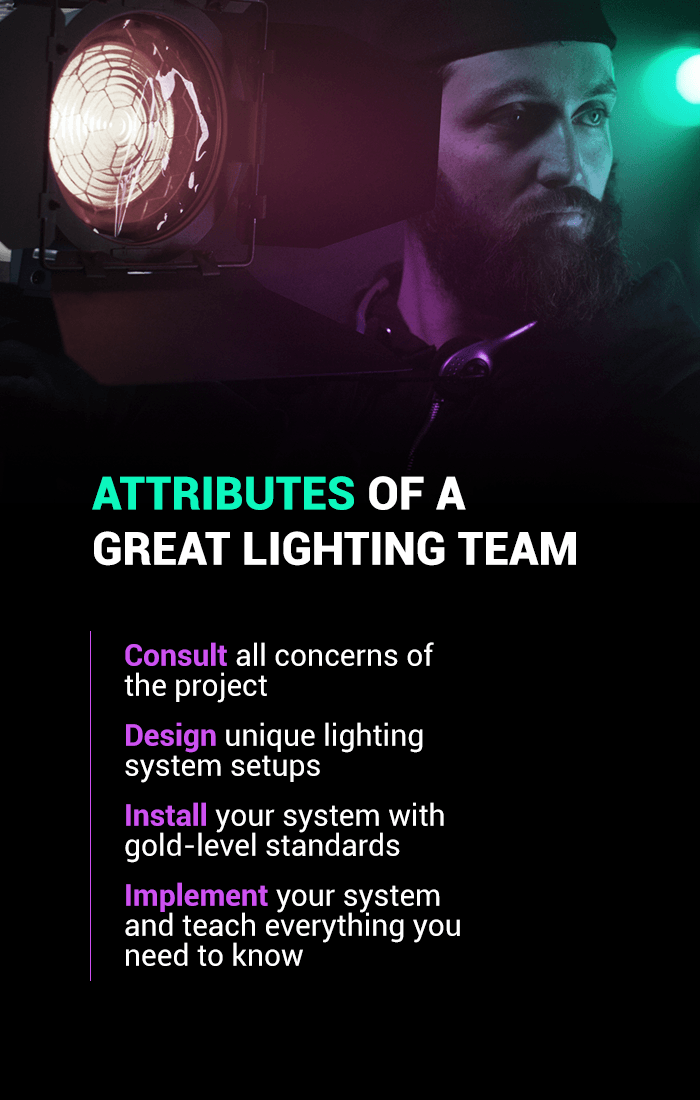 Moving from the initial lighting system design to flipping the switch on the finished product is an exciting thought, however, the process cannot be forgotten. Your corporate office, auditorium, place of worship or venue has a weekly schedule to uphold that shouldn't be inconvenienced by your new lighting system enhancement or installation. Thankfully, experienced lighting teams are well-versed in providing a seamless experience for busy businesses that have limited scheduling flexibility. Great lighting teams will:
Consult: From the start, you and the lighting team should discuss all goals, concerns and limitations associated with the project. Once both parties are on the same page, you should have a full picture regarding how your vision will become a reality.
Design: You shouldn't have to pick your lighting system setup from a list of generic designs. Your lighting specialists should create a unique design that caters to your financial, spatial and operation needs that is 100 percent original. All sketches, rendering drafts and hardware proposed should be designed for your project alone.
Install: While a great av team will keep you engaged every step of the way, you don't have to supervise their work. You'll be able to trust that they're completing the job to gold-level standards, freeing you up to resume your normal duties without being inconvenienced.
Implementation: After your lighting system is installed, the team will show you how to effortlessly utilize your hardware and software. They'll teach you everything you need to know. The team is there as a knowledgeable resource long after the system is implemented, too.
Part of your lighting team's job is to make your experience as streamlined and seamless as possible. Hire a professional group of experts that will make the process convenient and carefree.
Customized Lighting Designs

Customization — it's more than adding attractive features or making changes according to your personal preference. While applying modifications to an existing design can improve its performance marginally, all AVL builds should be designed from the ground up to meet your exact needs. A lighting team should always place customization at the forefront of design.
The need for customization is especially important in spaces that act as settings for a variety of events. A public performance venue, school auditorium and place of worship may host similar events, however, their goals are often vastly different. From theatrical and house lighting to the architectural and exterior lighting, these systems should cater to the specific activities and needs of the facility.
Create An Unforgettable Environment With Customized Lighting Designs From Illuminated Integration
The benefits of using a lighting team are invaluable. A team's wealth of knowledge and years of experience are indispensable resources. Your lighting team can design, create and install a brilliant lighting system that achieves your goals. Through discussion and collaboration, your needs will be heard, acknowledged and met, providing you with a dynamic system that meets your financial, spatial and technical limitations. Most importantly, a lighting team delivers value in every step of the process to protects and preserves your investment for years to come.
Let the professional AVL team at Illuminated Integration help you discover how you can truly transform your space into the setting of your dreams. Contact us today and allow our team of designers to help you make your vision a reality.