Grants for Church Technology

Whether meeting virtually through a livestream or meeting in person, most churches rely on technology to help their congregations worship and clearly hear speakers. If your technology is falling short, it may be time for an upgrade.
Churches have historically relied primarily on contributions from their church members or from their denomination to fund projects. However, some technology upgrades can be too costly for congregations to pay for on their own — especially when they need to reserve funds for other important things like their staff's income, community programs and missions.
If your church is struggling to pay for important technology upgrades, you may want to consider applying for a grant to help cover the cost. There may be a grant out there that could help you upgrade our church's tech so you are better equipped to worship and share your message with others.
What Are Church Grants?
A grant is funding that a government entity, foundation, trust, corporation or other party awards to another party with no expectation of repayment. In other words, grants are not loans but rather donations. In some instances, grants may take the form of products, such as computers, rather than money.
To receive a grant, the person or organization applying for the grant must write a request detailing how they would use the grant money. If this plan aligns with the grant maker's vision of how they want the money to be used, they can decide to award a certain amount of money to fund the endeavor.
Some churches may not realize they are eligible for grants. But if you are classified as a 501(c)(3) nonprofit organization, then you are eligible to apply for grants. Churches may have more success with faith-based grants than more general grants, but there are many grants they can apply for depending on how they plan to use the funding.
Types of Church Technology Grants
Most grants are fairly specific in some way and reflect the special interests of the grant maker. Some types of grants you can consider for your church include:
1. Government Grants
Some grants come from government bodies, whether at the federal, state or local level. Government grants are not always the best option for churches since they aren't intended for religious activities. However, churches may still apply for a government grant if they plan to use the funds for a program that is not expressly religious and would benefit their community.
2. Private Grants

In contrast to government grants, some grants come from private organizations. These organizations have more freedom to award money to religious institutions for religious activities if they choose to do so. Churches may want to look for grant makers that focus specifically on or favor churches in their grant decisions.
3. Regional Grants
Some grants are only available to churches or other nonprofit organizations within a certain geographical area. This could be a city, a county, a state or a larger region. Grant makers may have an interest in helping to enrich the communities where they are located. When you're researching grants, conduct some local searches for grants that apply to your city, state or general area.
4. Grants for Certain Demographics
Some grants aren't limited to specific areas, but they are intended for certain demographics. For example, you may see a grant that is intended specifically for urban churches or rural churches. Or, you may see grants to help churches in areas that are economically depressed. You may also see grants intended specifically for small or large churches.
5. Denominational Grants
Some religious grant makers focus on awarding money to churches within a specific denomination. If your church belongs to a certain denomination, search for grants that apply specifically to you. Your denomination itself may also award money to churches that need it within the group. Depending on the way denominations are organized, you may be able to reach out to your regional chapter and a national or international foundation.
6. Grants for Specific Purposes
Some grants are intended for very specific purposes, regardless of who they go to. For example, a grant maker may be equally willing to give money to a church or a nonreligious nonprofit as long as they use the money to help fund an addiction recovery program for the community or restore a historic building in the community. When it comes to the purpose of upgrading technology, you can find religious grants focused on upgrading facilities generally or specifically technology.
Church Technology Grants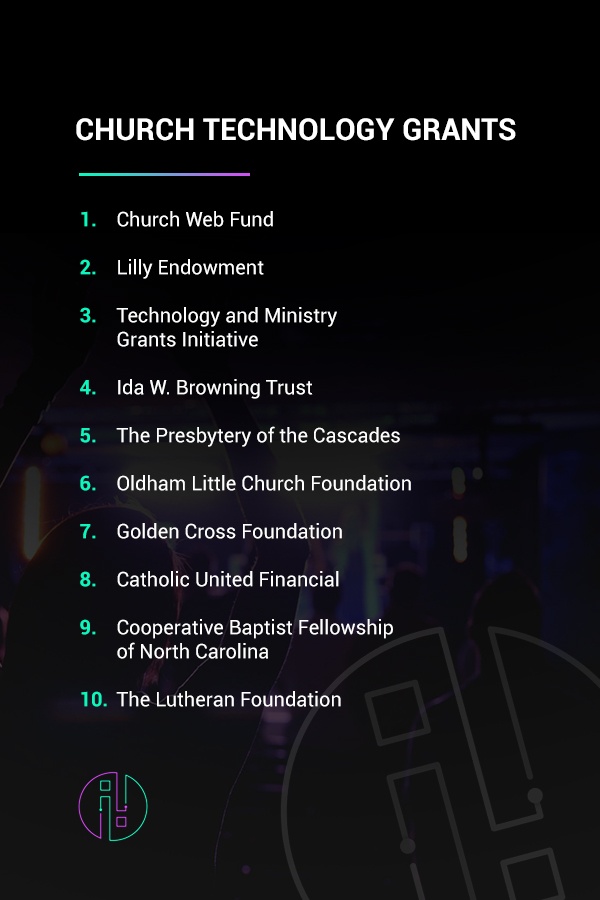 You may want to start your grant search with specificity to your location and situation and broaden your scope if needed. For example, if your church is a historic Methodist church located in downtown Philadelphia, you could search for grants for churches in Philadelphia, in Pennsylvania or in the Mid-Atlantic region. You could also search for grants for urban churches or historic churches. In addition, you could search for funding opportunities from the Methodist denomination and Methodist foundations.
As we've seen, there are a variety of grant types that may be available to your church. It's wise to search for grants that fit your context and purpose, but to kickstart your search, let's look at some examples of church technology grants that you may be able to apply for:
1. Church Web Fund
One opportunity open to all Christian churches in the U.S. is a grant from the Church Web Fund, a faith-based nonprofit organization. The grants they award are aimed specifically at helping churches improve their online presence. Optimizing your church's website can help you share information about your church, Christian resources, recorded messages and more. This can serve as a valuable tool for your congregation and for evangelism with people searching for information about a local congregation online.
2. Lilly Endowment
Lilly Endowment Inc. is a private philanthropic foundation that gives generously to religious institutions. Their religion grantmaking is intended to help enrich the vitality of American church congregations. The foundation also seeks to enhance public understanding about religion. If you're using technology in a way that aligns with these goals, you may be able to apply for a grant. Note that though the Lilly Endowment has given toward technology enhancements in a recent grants, this doesn't mean they are guaranteed to fund all technology projects.
3. Technology and Ministry Grants Initiative
The Center for Congregations understands that technology tools like sound and audiovisual equipment, websites, social media, computers and more are valuable tools for church staff, as well congregations and visitors. That's why they offer the Technology and Ministry Grants Initiative (TMGI). This grant is primarily open to congregations in Indianapolis, though it is also open to a limited number of congregations outside of the Indianapolis metro area. In addition to providing funding for technology upgrades, TMGI also educates churches on the use of technology and ministry.
4. Ida W. Browning Trust
Churches in Harrisburg, Pennsylvania, should consider the Ida W. Browning Trust, which awards grants to religious organizations, as well as other nonprofits. Whereas many grants for churches are not intended for technology upgrades, Ida W. Browning Trust grants are specifically intended for audiovisual equipment to help Sunday schools, youth groups or churches more broadly educate their congregations and build character. This equipment could include projectors, sound systems and other types of audiovisual equipment.
5. The Presbytery of the Cascades
Presbyterian churches in portions of Washington, Oregon and California may also want to consider applying for funding from the Presbytery of the Cascades. This governing body, which oversees Presbyterian churches in the area, is currently offering a grant for technology assistance related to COVID-19. As congregations are limited in their ability to gather and worship in person, the Presbytery of the Cascades wants to help churches get their congregations online through livestreaming and other tech tools.
6. Oldham Little Church Foundation
The Oldham Little Church Foundation awards grants to small, evangelical Protestant churches throughout the U.S. The foundation defines small as a congregation of more than 40 but fewer than 300 members. Their grants are intended for churches that are undergoing a new build, repair or renovation and need some extra help to complete the project. These needs could differ from church to church, but the foundation specifically mentions lighting and electrical work as an example.
7. Golden Cross Foundation
Churches that are part of the Tennessee Conference of The United Methodist Church (UMC) can apply for a grant from the Golden Cross Foundation, a nonprofit foundation focused on helping Tennessee Methodist churches better serve older adults. The foundation awards money to churches to help fund older adult programs and to fund church improvements that serve older adults. This includes tech upgrades to make services more accessible, including better projection and sound systems. Of course, your entire congregation can also benefit from these upgrades.
8. Catholic United Financial
Catholic United Financial is a not-for-profit, fraternal benefit company serving Catholic churches and individuals in Iowa, Minnesota, North Dakota, South Dakota and Wisconsin. Along with their other services, they offer grants for faith-based endeavors. One of the grants the company offers for parishes and schools is a grant to fund educational technology in either Catholic schools or parishes. This could be hardware, software or a combination of the two that would help elementary students learn. The Foundation Board of Directors awards up to $500 to grantees.
9. Cooperative Baptist Fellowship of North Carolina
The Cooperative Baptist Fellowship of North Carolina was founded to help unite Baptists in North Carolina for Christ-centered ministry. One way they help churches in North Carolina is through their grants. One of these grants was added this year to help churches upgrade their technology as needed to adapt to new challenges related to COVID-19. These small grants can enable churches with livestreaming or other technology capabilities to help their congregations get through this unusual time.
10. The Lutheran Foundation
The Lutheran Foundation is a nonprofit organization serving Lutheran churches in northeast Indiana. The foundation offers grants to help Lutheran churches in the area, as well as Lutheran schools or other ministries. The foundation especially favors churches or programs that deal with issues of mental and behavioral health and wellness. The foundation mentions technology upgrades specifically as a possible use for their congregational grants and specifies that they will fund up to half of the cost of these upgrades.
Writing a Church Technology Grant

So, how do you apply for a grant for your church? You do so by completing an application that involves writing a persuasive proposal detailing why the grant maker should choose to award you funding. Keep in mind that grant makers generally have limited funds and many applicants, so you have to thoughtfully compose your application.
Nonprofit organizations may have grant writers on staff who are trained in how to write effective grant applications. However, most churches don't have this luxury. You may want to consider seeking out a member of your congregation who has this skill and would be willing to help. You could also hire a professional grant writer to handle the process. Alternatively, you can do research on grant writing to familiarize yourself with best practices for creating a submission on your own.
These applications can include submitting a whole host of documents, including:
The letter confirming your IRS 501(c)(3) tax exemption status
Your operating budget and annual spending report
Information about your leadership, including their qualifications and contact information
Your last Form 990 and financial statement
A list of all the donors who support your church and the amounts they donated
Information regarding your church staff, including their working hours and salaries
Brochures or other literature explaining your church's programs
Letters from community leaders who can vouch for the value you add to the community
Be sure to follow the application process as laid out by the grant maker, as this process can differ from grant to grant. Carefully read through the organization's criteria for choosing which applicants they award money. This will help you determine whether you're a valid candidate and know how to appeal to that organization's goals in your proposal. You may also be able to look at past grants the organization awarded to learn more about where their heart is and how you can align your goals with theirs.
Choose AVL Church Upgrades From Illuminated Integration
Quality audio, video and lighting (AVL) in a church can help you create a more welcoming atmosphere, enhance your worship experience and improve the sound quality for sermons. If you're looking to upgrade your church's AVL systems, Illuminated Integration can assist. We can help you set up your AVL systems from scratch, overhaul existing systems or provide smaller upgrades as needed.
Contact our team to get started today.