Companies around the world use the three elements of audio, video and lighting (AVL) to impress their visitors. Together, these components create an AVL system, an immersive and entertaining setup. Many churches, schools, museums and businesses rely on AVL systems to take their offerings to the next level. But not all AVL systems may be a good fit for your business.
When considering a custom AVL vs. standard system, going custom is usually the best use of your resources. Custom audio, video and lighting systems like those from Illuminated Integration are ideal when you have a unique need that an existing system will be unable to fill. If you're planning to enhance your business with AVL, consider the benefits of a custom option, including the following:
1. Can Fit Any Space
Sometimes, trying to use a standard, pre-fabricated AVL system can be like trying to fit a square peg into a round hole. You may find it difficult to force an existing AVL into your unique space. With a custom AVL system, you're getting AVL guaranteed to fit your space. You can know that your facility will be able to use the AVL equipment to its fullest potential because it has a design that is specific to meet your building requirements.
Custom AVL systems can fit any space in the following ways:
Any level of complexity: No space is too complex for custom AVL. If you have complicated demands for your future AVL system, a premade AVL might not cut it. A custom AVL system is built with your needs in mind so it can enhance your space perfectly.
Any size room: Some AVL systems are too small for large rooms. Others are too powerful for smaller ones. With a custom AVL, you get a system that gives you the right amount of AVL for your exact needs. Big or small, a custom AVL appears both professional and exciting to your customers, visitors or audience members.
Old space modifications: Are you trying to rig an old space? Are you doing intricate renovations? A custom AVL is ready for any of these situations. Some old spaces have outdated or underpowered AVL that you need to replace. Others may be rooms that have never incorporated AVL before. Custom AVL will fit into any type of space you're modifying, whether it's old or new.
2. Original AVL Design

Going the custom route for your AVL guarantees you get an original design. Custom AVL companies like Illuminated Integration design and create custom AVL solutions for your business. They never reuse a previous client's design and hope for the best. They'll assess your building and talk through your needs to provide the perfect AVL system, one that's unique to you.
It all comes down to your vision for the project. Whether you need AVL for school plays, live productions, church gatherings or any other reason, you have a mission you hope to achieve. AVL will help turn your dream into a reality, letting your vision reach its full potential. With existing AVL systems, you risk delivering an underwhelming experience. With original AVL design, you can experience peace of mind knowing your AVL is going to perform the way you want it to every time. Don't let someone else's AVL design limit your goals. Let your imagination soar and experience it all in action with your custom AVL system.
3. Unified Experience From Design to Training
Buying an existing AVL could lead to issues related to the help you receive along the way. You want expert service from start to finish, providing an integrated AVL installation experience. When you buy an existing AVL, you may get semi-integrated service with new people picking up where the previous left off.
You could buy the AVL from one company and get it shipped by another. Then you'll hire another company to install it, but they may be unable to teach you and your employees how to use it after installation. Then you'll need to hire someone to provide training so you can use the system — and that counts on the existing design fitting into your unique space. In the end, the AVL may have passed through many hands, and you may be left to deal with extra stress throughout the installation and training process.
When you choose a custom AVL design from Illuminated Integration, you're getting more than an original design. You're getting a turnkey solution for your AVL needs. Professionals will work with you every step of the way, from early design brainstorming to setup and training. You'll work with the same individuals throughout the process and receive personalized attention. With custom AVL, you get comprehensive treatment from experienced and caring professionals from start to finish.
4. Equipment Custom to Your Space

When shopping for an existing AVL, some salespeople may try to upsell you to buy something that's too big or extravagant for your needs. And if you're looking to save money and choose a budget option, you may find that the AVL system underperforms. How can you know which system will be the right choice for your space?
The shopping process is easier with professionals who can help you get a custom AVL system that contains the exact equipment you need to fit your room and provide an experience you're happy with. You won't have to deal with extraneous gear lying around. And rather than shortchanging yourself and not getting enough gear, you'll have the right amount for your purposes.
With custom AVL, you can feel confident knowing you're getting your money's worth. The professional designers and installers you work with will tailor the gear to fit your needs so you don't waste your hard-earned dollars.
5. Enhanced Experience for Visitors
Custom AVL enhances the experience of your visitors by matching the equipment to the size and shape of the room. If you install an undersized AVL system in a large room, the results could be unexciting for your guests. If you install an AVL system that is too large for the room, you could overwhelm your visitors. Choose a custom AVL system to provide the perfect balance to your guests. Custom AVL provides the following enhancements:
Increased clarity: You'll be able to deliver the audio, video and lighting elements of your display or production in full clarity in whatever size or shape room you have. Your visitors will hear and see everything in full detail.
Better sound: People care about sound quality. If you're putting on a production that centers around music, singing or speaking, a custom AVL system will help you achieve the best sound quality. Capture the full spectrum of sound, from rich bass to full mids and crisp, soaring highs. Make sure your audience can hear every spoken or sung word with the sound quality custom AVL delivers.
More immersive: When your guests visit, you want to immerse them in your production. They should leave feeling like they've had a brief stay in another world — one that they'd love to come back to. With a custom AVL system, you can better achieve full immersion for your guests.
6. Cost Savings Over Time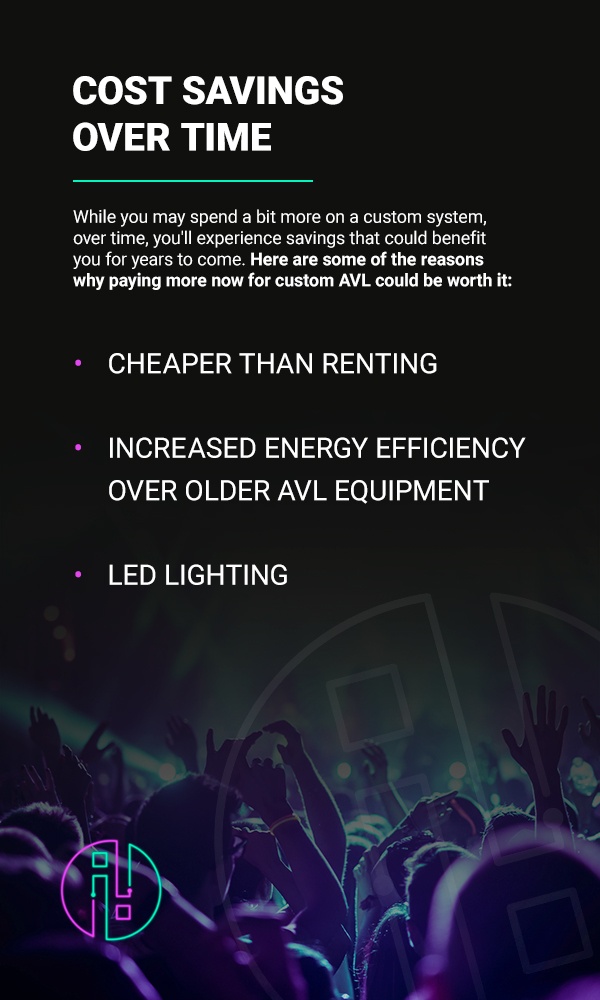 Getting custom AVL may cost more upfront than purchasing an existing AVL system. This is especially true if an existing system cuts back on some of the necessary functions you need for your production. While you may spend a bit more on a custom system, over time, you'll experience savings that could benefit you for years to come. Here are some of the reasons why paying more now for custom AVL could be worth it:
Cheaper than renting: Renting might be a good short-term option, but it's expensive in the long run. If you think you'll need AVL in your business for the foreseeable future, you can get your own custom AVL system instead of paying more in rental fees over the course of several months or years. The cost of renting may exceed the price of buying a custom system after a few months.
Increased energy efficiency over older AVL equipment: Old AVL systems lack modern advances in energy efficiency. This can contribute to higher energy bills. When you get a custom AVL system, you're getting the latest technology in energy efficiency to lower your energy bills while delivering a great experience for your guests.
LED lighting: LED lighting is one of the latest advances in energy efficiency when it comes to lighting. An LED light lasts up to 25% longer than fluorescent or incandescent bulbs — while using 80% less power. Get a new system with LED lighting to experience energy and lightbulb replacement savings.
7. Increased Safety
A custom AVL system can increase safety in your building, especially after business hours. By including multiple building areas in your custom AVL system, you can control lighting throughout your building with the same control board. If you want to adjust lights in another room, you can do it with the touch of a button or the turn of a knob. You can make your building seem more inhabited than it may be after hours, deterring criminals from breaking in.
You can also experience the increased safety of exterior lighting when you include them with your custom AVL system. Exterior lights provide targeted illumination to areas around your building. This is a great deterrent to keep trespassers away. They may be less likely to approach your building if neighbors or security cameras will be able to see them approaching.
With the latest LED lighting technology, your security cameras will be able to see any trespassers in full detail. Lights of the past gave off murky yellow light that might not reveal any recognizable features of thieves caught on security footage. With the clear, white light of LEDs, you'll be able to see a wider area of the outside of your building in greater detail. Choose to invest in exterior lighting when you install a custom AVL system to increase your building's security.
8. Improved Communication and Collaboration
A custom AVL system is an investment in the communication and collaboration of all your employees. Today's workplaces rely on AVL for more than special productions. Businesses need audio, video and lighting elements throughout their daily operations. Slide shows, meetings and independent work all rely on proper lighting, sound and visual components for success. You can impress your current and future clients with a great system that helps you get your point across in a way they can understand and enjoy.
Custom AVL can also help your business if any of your employees work from home. Without the proper gear, video meetings can be an unpleasant and unproductive experience for everyone involved. With a custom AVL system, you can enhance the quality of your video meetings with great lighting and high-quality video and audio gear. Bring your work-from-home employees into the discussion with the latest, custom AVL gear for your business.
Collaboration is key in businesses, and you can foster more of it as different experts come together to use your custom AVL to its fullest potential. Employees who specialize in audio engineering can work with the video and acoustics experts to deliver a great experience as a team. And if problems arise, employees and AVL professionals can work together to solve the issue.
Trust Illuminated Integration to Design and Install your Custom AVL System
When you're ready for a custom AVL system for your school, church, theater, business or other commercial space, trust the experienced team at Integrated Illumination for high-quality results. Our creative leaders have over 250 shared projects of experience across every step of the process. We can design, sell, install and educate to help you achieve your AVL goals.
We've installed custom AVL systems in many industries, so we're ready to meet your unique demands. We understand that the AVL industry is not a "one size fits all" experience. With our experience and skill, we can help you get the AVL system that is perfect for you. Contact us today to learn more.