Communication is vital for any business to operate effectively. Good communication also makes a workplace more enjoyable and pleasant to work in. Communication requires dedication and hard work to maintain. Many factors can affect how well your office communicates, which also means there are many ways you can work to improve office communication.
Consider these tips and suggestions for how to improve workplace communication.
15 Ways to Improve Office Communication
For an office to operate efficiently, there needs to be effective communication between employees at all levels of the company. Effective office communication is important to the success of the office and how employees function in their roles. Whether your office has good communication or poor communication, there are always ways to improve in-office communication. Consider these tips for improving communication in your office.
1. Schedule Status Meetings
One way you can improve communication between your leadership team and their team members is through scheduled status meetings. Status meetings allow managers to check in with team members and learn where they're at with projects and assignments, and find out if any help is needed. Check-ins can be brief and it's helpful to make them a regular occurrence so employees know they have designated times to communicate with their supervisors.
Regularly scheduled status meetings are also great opportunities to communicate with remote employees and stay updated with the remote work they're completing.

2. Create a Personable Environment
Workplace communication is much easier and more enjoyable when you can create a personable environment. Your employees will feel more comfortable discussing important issues if they also feel comfortable having casual conversations in the office as well. If your leadership team is rigid or puts up a cold front to their team members, communication is less likely to flow smoothly and other efforts to improve communication may come up short.
Showing a genuine interest in your employees' and coworkers' well-being and personal lives is a great way to start building a personable environment. Saying hello and smiling as you pass each other also goes a long way in creating personable environments. Creating this type of work environment takes time and dedication. Be sure to stick with it and encourage your employees to follow suit.
3. Assess Existing Communication Methods
Your improvements will only be effective if you know where to make those improvements. An important step to take early in your improvement process is to assess the office's existing internal communication methods.
Most offices use a variety of different methods of communication — including email, instant messaging, phone, video chat and in-person meetings — though you may find that some of them may be more effective in certain situations than others. For example, if an immediate answer is needed for an urgent question, the best channel of communication is likely a phone call.
Taking time to assess how your office uses various communication methods will help you determine what works and what could be improved. For example, if your office usually announces significant policy changes or company-wide updates via email, consider how making similar announcements during an in-person meeting could be an effective improvement. Changes may be easier to explain and understand in person, and employees can get immediate answers to their questions.
4. Encourage Managers to Have an Open Door Policy
Another way to help employees feel comfortable communicating with members of your leadership team is with an open door policy. When using an open-door policy, managers keep their office doors open to become more readily available to their employees. Rather than shutting others out and blocking off communication, encouraging managers to leave their office doors open when they're free creates a welcoming environment for employees.
While there will be times when managers will need to reach out to employees, an open door policy motivates employees to approach the managers instead. This type of policy helps employees at different leadership levels build connections and engage in meaningful conversations without the worry of interrupting a manager's day. Open communication allows for more effective workplace communication across the board.
5. Make Use of Social Media
Social media has become a powerful tool in the business world. Social media is largely used to connect with existing and prospective clients and customers, though making use of social media within your office can also help improve communication. Whether you're sharing posts through your intranet or on public social media accounts for your business, social media can be a fun way to share information, improve employee engagement, generate discussions, boost morale and learn something new.
Internal social media channels enable employees to share their interests with each other, which can spark new connections in a casual way. When coworkers connect through personal interests and ideas, they'll be able to make strong business connections with each other, helping to improve office-wide communication. At the very least, internal social media is a fun way for employees to interact with each other.
6. Unify Departments
Each department in your office likely has its own information and way of communicating. To help keep that information organized and shared with the correct personnel, look for ways to unify your departments. For example, if your office uses an intranet, create separate groups within the intranet for each department. Members of each department will have access to their respective department groups.
These groups can become a space to share department-specific information and send updates to the entire department easily. Department members will be unified, making communication within each department more efficient and effective.
7. Write and Send Internal Newsletters
Whether your office is big or small, employees may find it difficult to keep up with what's going on throughout your company or organization. Employees may feel left in the dark when it comes to company-wide updates and happenings, especially throughout a busy season or when work picks up. To help keep employees in the loop, consider sending out internal newsletters to provide recaps and updates to your staff.
Your newsletters can include anything, big or small, regarding your office as a whole, specific departments or individual employees. For example, you may dedicate a specific section of the newsletter to shout out employee birthdays or life events so the office can celebrate with each other. Find an interval to send them out at — for example, weekly, biweekly or monthly — that makes sense for the amount of information your office has to share.

8. Design a New Floor Plan
Did you know the floor plan and design of your office can affect workplace communication and productivity? In the past, standard office spaces were designed to keep everyone's workspaces separated and private. While private cubicles and quiet workspaces are still beneficial in many situations, open floor plan concepts have grown in popularity for their ability to encourage collaboration and communication. If the layout in your office could be hindering communication, consider rearranging the office furniture.
While you should still keep some private workspaces, most modern workplaces are doing away with cubicles and incorporating more group workstations and open space. Rather than isolate your employees, open floor plans make communication easier and can offer more benefits, like allowing more natural light into the office. When redesigning your office space, be sure to consider how corporate AVL updates can help make improvements as well.
9. Collect Feedback
Another great way to encourage communication and make improvements around the office is through feedback. Ask employees to provide feedback regarding office communication, department communication, management communication and other areas related to how the office functions. While you may be able to identify areas for improvement on your own, employees and staff members have watchful eyes that you can use to your benefit.
If something is being communicated or done ineffectively in your office, your employees are likely to notice. Asking for their feedback on a regular basis is beneficial for a few reasons. You'll learn where improvements can be made, your employees will appreciate the ability to voice their opinions, employees will feel more comfortable communicating these topics and more. Asking for feedback on anything keeps communication open and shows that even leadership positions have things to learn.
10. Make Time for Non-Work-Related Conversations
Some companies can be pretty strict about mingling and socializing during the workday. Restricting non-work-related conversations can actually hinder communication in your office. Humans are naturally social beings and each employee is multidimensional, meaning there's more to them than just the work they do in the office. Embracing time for those casual conversations is crucial for building positive office relationships and a strong, team-focused dynamic.
Talking about life outside of work is also a great way to empathize with coworkers. Empathy strengthens workplace relationships, thus strengthening workplace communication. There are many ways you can encourage these types of conversations at appropriate times during or after the workday. For example, break areas can be a designated spot for mingling or bringing employees together at staff parties. Making time for casual conversations also shows that you care about your employees beyond their ability to work.
11. Encourage Employees to Create a Healthy Work-Life Balance
A healthy work-life balance can impact several aspects of work, including effective communication. Without a healthy balance between work and personal lives, employees can quickly become burnt out. When burnout occurs, employees can become more unhappy, which makes communication less effective. To prevent employees from feeling burnt out, be sure to encourage a healthy balance between work and life.
For example, provide employees with an adequate number of personal days, offer longer or more frequent breaks during the workday or limit how often employees work overtime to help employees find an effective work-life balance. The result will be healthier and happier staff members, which makes communicating with each other more pleasant and effective.
12. Practice Effective Communication Skills
Communicating effectively in any setting or situation requires practiced skills. While there are many factors that make up effective communication skills, two areas you may want to try focusing on include active listening and body language.
Active listening enables office management to hear what its employees are saying, which encourages them to share honest feedback. Be present during conversations — limit distractions and dedicate your attention to focusing on what's being said. It's also helpful to repeat what's been said to you during the conversation to affirm you were listening. Confirming what was heard also helps to ensure the message was communicated and understood properly.
Body language and non-verbal communication can greatly impact corporate communications. When communicating with others in person, keep your body posture approachable and open. Even if you're communicating remotely via video chat, your body language can still affect your communication. Maintain eye contact and sit up straight to demonstrate engagement.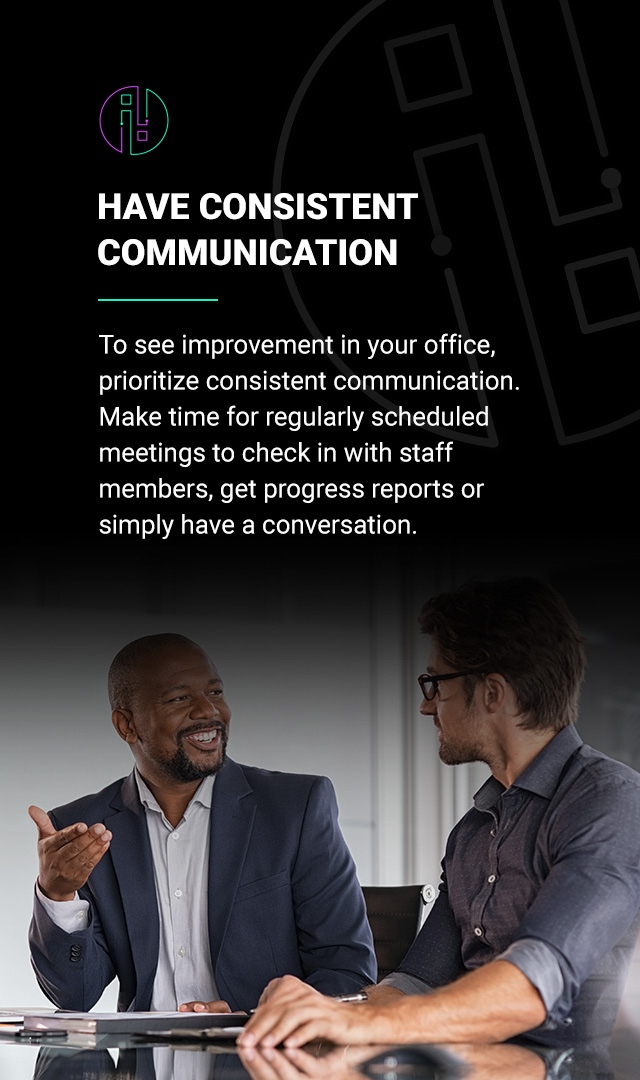 13. Have Consistent Communication
Consistent communication will be much more effective than only meeting with employees once a year for a review. To see improvement in your office, prioritize consistent communication. Make time for regularly scheduled meetings to check in with staff members, get progress reports or simply have a conversation. Team meetings or 1-on-1s can initiate important conversations and topics that may otherwise go unmentioned.
Finding a healthy flow of communication for your office will result in significant improvements. Team members will be held accountable for keeping up with communication, which will also help improve productivity and collaboration between employees.
14. Choose Effective Channels for Communication
There are several different channels your office may use for communication. While we may have touched on this above, it's worth noting that choosing the right channels to communicate through can make big differences in the overall effectiveness of your communication. Some channels may be more appropriate in certain situations than others.
For example, it's likely not appropriate or effective to make team decisions via intranet chat. There may be many people not present for the discussion and it can be challenging to get a feel for the situation. This channel of communication is most often more appropriate when discussing lunch plans or less serious topics. Big team decisions will be more effectively communicated through a meeting. Be sure to choose effective channels for the information you're communicating.
15. Conduct Video Calls With Remote Employees
Remote employees can easily feel left out of the loop since they miss out on in-person office communication. To help bridge the distance between remote teams and physical teams, conduct regularly scheduled video calls with remote employees. Regardless of whether you include remote staff in team meetings, conduct individual conferences or both, your remote employees will appreciate the opportunity for live communication.
Learn How to Improve Office Communication With AVL Updates
Whether you're giving presentations to your office or are remotely participating in a conference, an updated AVL system can help ensure communication is effective and smoothly delivered. From audio, video, lighting and controls, the design and consulting team at Illuminated Integration has the corporate expertise to help create and deliver an AVL solution that's right for your office.
To learn more about how Illuminated Integration can improve office communication and productivity with AVL updates, contact us today.