As technology continues to advance, virtual events continue to rise in popularity. One primary use of virtual events is increased convenience. A survey from the virtual event platform vFairs, reports 77.2% of virtual event attendees prefer online events because of how easy they are to join. Survey respondents also report enjoying the global reach of virtual events as well as the low cost and networking aspect.
It's clear virtual events are here to stay, but how do you host and plan a virtual event? Whether you're planning a small, virtual happy hour for coworkers or a multiday global conference, there are a few tips you should follow to ensure your event runs smoothly. The following 13 tips will help you determine how to plan a virtual event that both meets your goals and satisfies attendees.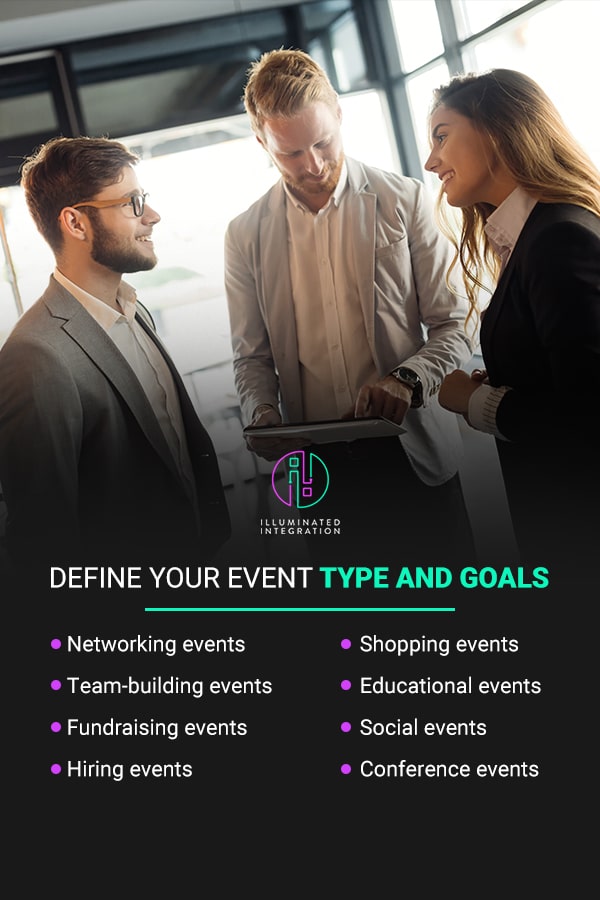 1. Define Your Event Type and Goals
Defining the type of event you will run helps you set an agenda and goals and allows your guests to know what they're in for. Different types of events include:
Networking events: Networking events are social in nature since the primary goal is to encourage interaction. Networking events draw in working professionals who are interested in expanding their professional connections.
Team-building events: Team-building events are excellent for companies that are looking to boost employee morale and improve the work culture. This type of event lets coworkers interact after work hours from the comfort of their own homes.
Fundraising events: Hosting a virtual fundraising event allows you to reach more people. People from anywhere can join your event to donate to your cause.
Hiring events: Virtual hiring events are a great way to narrow down your applicant pool. Hosting a virtual hiring event instead of an in-person event allows you to meet applicants who are not currently in the area but are willing to relocate.
Shopping events: If you're looking to sell products, a live stream is a fantastic way to interact with potential customers and answer any questions they may have. A virtual shopping event gives viewers an in-person shopping experience from home.
Educational events: Educational events aim to teach or raise awareness. Virtual lectures or panel discussions may bring in students, working professionals from the field or those who are simply interested in the topic.
Social events: While types of social events were mentioned above, some events have no extra motivation other than bringing people together. For example, you may plan an event to reduce loneliness among remote workers. There is no secondary motive like team-building or networking. The event is simply a social space for anyone interested.
Conference events: Virtual conference events tend to be larger-scale events that can last multiple days. Conference events typically have a wider audience reach as the event topics are relevant to a diverse group of people.
Once you decide what type of event you plan to host, you can work out your goals. Is there a certain amount of money you're looking to raise? Are you trying to reach a certain number of attendees? Defining your goals will help determine your marketing efforts and the design of your program.
2. Make Your Event Relevant and Useful
People are very conscious of how they spend their free time. You have to make people want to attend your event by showing them its value. Once you get people to your event, you also want to make sure they are active and engaged.
Host an event that is useful to the audience and relevant to their needs. What is relevant and useful will vary depending on your target audience and the type of program you are running. However, a good place to start is to look at any current programs or discussions that are relevant to your event. Is the topic something people seem interested in? What valuable insight can you add to the conversation?
If you have trouble answering those questions, potential guests will also see the lack of value your event will bring to them. When people look at your event advertisement or description, they should see why your event is worth attending.
3. Differentiate Your Program From Others
Your event needs to be relevant and valuable. However, your event also needs to be unique. There's a good chance someone else may be running a program similar to yours, so why should people attend your event instead of competitors?
Think of ways to improve attendee experience for virtual events. One way to do this is through takeaways. For shopping events, consider giving every attendee a discount code for their next purchase. For educational events, provide attendees with copies of the presentation or additional learning materials.
Other ways to differentiate your program from others include the following:
Inviting well-known guests speakers
Incorporating fun event themes
Planning unique activities
Hosting contests and giving away prizes
Encouraging two-way dialogue via the chat feature
4. Choose the Right Platform
With the rise of virtual events, there are now endless options for virtual event platforms. When choosing an event platform, consider which features would be beneficial to your audience. Will you need polling features or the ability to break people into small groups? What about subtitles or chatting features? Take your time learning what each platform has to offer before picking one.
Also, consider what is accessible and appealing to your audience. If you're aiming to reach teenagers and young adults, you may have to meet them where they are. Younger audiences may not be willing to download a new app. However, if you host a live event on social media, they may feel more inclined to join.
Popular platforms for online events include:
Zoom
Google Meet
Instagram or Facebook Live
Airmeet
YouTube
Filo
InEvent
Tame
vFairs
Microsoft Teams
Intrado

5. Carefully Choose the Date and Time
While virtual events give people the convenience of joining in from anywhere, it's still important to consider the date and time of your event. When choosing a date, be conscious of any holidays or other factors that would make a date less than ideal for potential guests.
If you're hosting an international event, remember to also consider other cultures' holidays and events. Additionally, when hosting an event that is open to people in different time zones, consider how early or late the program will start in different time zones. It's rare that you will be able to please everybody, but your efforts to make the program accessible to the majority are essential.
6. Send Invites
Sending invites makes the event feel more personal. Of course, social media marketing is also great, but individually inviting guests may make them feel special or more intrigued to attend the event. Additionally, sending invites also offers the opportunity to address technical questions.
Depending on the platform you use and the way you set up your event, guests may need a password to join the event. Guests may also be unfamiliar with the platform you've chosen. In the invite, you can provide instructions for attending the event so guests feel informed and well-prepared.
7. Test Your Equipment Before the Event
Event practice runs help familiarize you with the event's content and test your equipment. Practice runs allow you and a tech team to work out any bugs or issues with your equipment. When testing your equipment, work out the best background and lighting, check your webcam clarity and verify your microphone is clearly picking up audio.
If you plan to share your screen during the event, ensure all your documents are easily accessible. Double-check your platform's settings. Some platforms allow you to disable certain features for guests, so make sure all the correct features are turned on or off.
8. Prevent Your Event From Being Too Long
You want your event to last long enough to be worthwhile to attendees, but you don't want your program to drag on. As mentioned earlier, people are very conscious of how they spend their time, and an excessively long event may turn people away. For most events, a good length ranges from an hour to two hours.
However, for events such as conferences, you can host longer events. Conferences are expected to last longer, so attendees will not be turned away by the event duration. However, it is still recommended to break the conference up either with breaks, games or networking opportunities. It's also important to allow some free time for attendees to use the bathroom or take their eyes away from the screen for a bit.
9. Provide a Clear Agenda
Especially for longer events like conferences, you'll want to provide attendees with agendas so that they can follow along and know what is up next. It's up to you how detailed you would like to make your public agenda. For social events, a brief overview of how the event will go will suffice, but for educational or conference events, a more detailed outline is appreciated.
Agendas are also helpful for your team so everyone is on the same page. If you have a team of people helping oversee small group sessions or gather questions for the Q&A portion, an agenda will help them know when they need to be ready. Overall, an agenda will help keep you on schedule and allow your guests to feel prepared and informed.

10. Incorporate Interactive Elements
Getting attendees involved is a solid tip for hosting a virtual event. Interactive elements like polls, question-and-answer sessions and icebreaker activities help keep guests attentive and engaged. Interactive elements also help attendees feel more comfortable and included in the event. Encouraging interaction also helps make guests feel valued and that their presence is acknowledged and appreciated. After all, your event would mean nothing if people did not choose to show up.
Examples of interactive elements may include the following:
Breakout rooms or small group sessions
Icebreaker activities
Q&A sessions
Polls
Quizzes
Games
11. Have a Tech Support Team Available
Technology can be unpredictable, especially during live events, so it's best to be prepared for any situation. Having a tech support team on hand helps ensure any bumps in the program can be effectively and efficiently fixed. When hosting an in-person event, you have a team to support you during the setup, tear down and the actual event. The same should go for your virtual events.
Having a team dedicated to monitoring technical aspects allows you to focus on the content of the event. Your tech support team may only need to consist of a person or two, but having at least an extra set of hands ready to tackle any problems will help you feel more prepared and allow your event to run smoothly.
12. Use Quality Production Equipment
Low-quality video and audio are unacceptable for a virtual event. If you're presenting, a blurry video and muffled audio will make people leave the event. Upgrading your camera, microphone and lighting will significantly impact your presentation quality.
Even if your event does not include a formal presentation, quality audio and visuals are crucial for successful virtual events. If your event aims to sell a product or raise money, you want to make a good impression on potential customers or donors. If you're unsure what equipment you need, Illuminated Integration is an AVL company that can help you find the quality equipment you need.
Equipment that will improve your live event's broadcasting quality includes:
HD webcam: An HD webcam will make a huge difference in your video quality. While your smartphone or laptop camera may be decent, it is always best to use an HD webcam when possible.
Reliable, high-speed Wi-Fi: Prevent lagging or disconnecting from the event by ensuring your Wi-Fi is working properly and efficiently.
Quality microphone: Avoid using your computer's built-in microphone and use either a headset, lavaliere or handheld microphone to ensure quality audio.
Professional lighting: Professional lighting will keep you visible no matter where or what time you host the event.
13. Send a Post-Event Survey
Feedback is essential for any event, including virtual programming. Post-event surveys give you insight into the attendee's experience. Attendee satisfaction is one of the best ways to identify a successful event. This feedback also helps you plan even more successful events in the future.
Potential survey questions include:
How valuable was this event to you?
How likely are you to attend another one of our events?
What type of event or topic would you like to see next?
Do you have any suggestions for improvement?
Ask for feedback from your team, too. Whether through a formal survey or a team discussion, talking through how the program went allows your team to identify areas to work on before the next event.

Host a Successful Virtual Event With Illuminated Integration
When it comes to hosting a successful virtual event, our team has you covered. Regardless of your event size or complexity, our experts are passionate about providing you with a fully integrated AVL solution. Our AVL solutions will ensure your future online events always have quality video and audio. Contact us today to start hosting professional, high-quality events.