How to Determine What AVL Equipment You Need

Integrating an AVL system into your venue is a dynamic way to instantly enhance every production, performance and presentation you host. Although these system configurations can work wonders for any space, it's vital you understand why certain pieces of AVL equipment are necessary to achieve your desired experience.
The AVL design experts at Illuminated Integration understand that every venue is as unique as the individual events it showcases. From corporate offices and educations institutions to worship centers and everything in between, we know the type of audio, video and lighting equipment you choose can dramatically alter the versatility and effectiveness of your AVL design. We're here to help you determine what AVL equipment you need to produce unforgettable sensory experiences that exceed the expectations of your audience.
Audio
What does exceptional audio quality sound like? Though the quality of your venue's audio is crucial, many people may not realize quality audio means much more than clear sound — the best audio experience occurs when it successfully connects and engages the audience. Poor audio quality resulting from feedback, unusual sounds, echoes or other undesirable noises distracts the audience and disengages them from the performance. To capture and retain their attention, you need to outfit your space with the right audio equipment and system.
Performance audio systems: A performance audio system can support a range of frequencies. A high-quality performance audio system is especially critical for auditoriums that showcase a variety of productions and events throughout the year. For example, a school theater can benefit from a performance audio system that can produce clear and crisp sound for productions, ceremonies and assemblies that produce vastly different sound frequencies.
Distributed audio systems: Also known as a whole-house audio system, a distributed audio system will deliver sound throughout the rooms and floors within a building. These systems are excellent for widespread communication such as announcements and for delivering ambient music throughout multiple rooms or floors.
Recording audio systems: A recording audio system is an essential piece of equipment for venues that require playback. Many sites use recording systems for a variety of events such as lectures, presentations, worship services and music performances. An audio recording system is an excellent tool to have in venues that host various events that may require audio playback in the future.

Your audio setup can be basic or complex. Though you can incorporate many fantastic elements into your design, we believe a few fundamental components are necessary in every system. Three essential pieces of equipment your venue needs are microphones, speakers and soundboards.
Microphones: Depending on the diversity of your events, you'll need an array of microphones that cater to specific performances. Handheld corded or wireless microphones are great for musical performances while headset or lavalier microphones are ideal for speaking engagements. You may also consider investing in stage microphones that hang from the ceiling to enhance the audio of theatrical performances.
Speakers: Similar to microphones, speakers are also available in a wide assortment of styles that cater to specific productions. Even the speaker cables themselves can make a significant difference in audio quality. Analog versus digital equipment is also a point of consideration, especially if you're trying to update your current analog AVL system with digital integration. Ideally, your speakers should work with your microphones and mixers to create sound imaging — a final product that unites all sounds coming through the mixer into one cohesive soundscape.
Monitors/mixers: What you put into your AVL system is what you get out of it. The music, speech and other sounds your microphone picks up need to feed into a reliable mixer so their output is crisp and clear. Monitors enable you to view audio levels, while many soundboards allow you to modify the input and output frequencies.
Volume and clarity are essential, but these two aspects alone won't necessarily provide the quality audio your venue requires. The systems and equipment you use throughout your venue need to support the range of frequencies you use at all levels. As sound travels from a microphone through a mixer and into a speaker or recorded file, sustaining its varying frequencies will not compromise output quality.
Visual

As you dream up your AVL build, you must also keep the visual component in focus. Similar to audio systems, video systems are also available in diverse configurations that cater to specific goals. If you're adding a visual component to your AVL design, you'll need a reliable system that displays clear content that informs and entertains the audience while providing minimal distraction. There are over a dozen different video components used throughout a variety of spaces. We believe it's worth considering three of the most effective visual systems.
Projection systems: Projection systems are great resources for a variety of venues, including community centers, schools and corporate offices. DLP and LCD projectors are powerful visual aids that can enhance a presentation or provide an alternative viewing experience for audience members who require a wider view of the stage.
Camera systems: A camera system is a useful addition to venues that host informative or entertaining events. These systems are ideal for venues that need to record and preserve video content or for facilities like worship centers that want to livestream their services.
Video distribution and switching systems: You can integrate a video distribution and switching system as a wireless or hardwired system into your church, school or corporate space.
After you've selected a video system, consider the other pieces of equipment you'll need to capture and display the content.
Cameras: The number of cameras you need will depend on how you wish to use your video content. You'll first need to determine whether you need portable or fixed cameras, and if these cameras will require remote or manual movement. Then, you'll need to decide which video resolution you'll want to record and replay. You'll also need to keep in mind older monitors or displays may not be able to handle new video equipment. Make sure your input and output components are compatible with source components.
Projector screens: Even the best projector system can lose its luster if you play it on a poor-quality projector screen. Invest in a projector screen material that delivers an exceptional viewing experience and that has the appropriate size for the viewing distance of the audience.
Playback decks: If you're integrating a video distribution and switching or camera system into your venue, you may want to consider investing in playback desks. Though you may not need immediate playback capabilities, you should at least be able to record your video content and save it to a file you can play back from the system or transfer to an external source.
Tripods/accessories: Depending on which equipment you choose, you may also need accessories. Video cables, remotes, lenses, tripods and other hardware or software resources must be compatible with the video equipment and the other AVL system components they interact with.
The visual element of your AVL system is critical to the successful transfer of information and ideas. Whether your venue seats 1,000 guests or if your conference room requires the versatility for video conferencing and presentations, the video systems you integrate into your AVL design must use quality components. Uneven audio quality or inadequate lighting can significantly impact visual performance. Ideally, the quality of the content should match the quality of your audio and lighting systems to provide a balanced sensory experience.
Lighting
Modernizing the AVL systems in your venue can dramatically enhance your in-house events. While improved audio and video quality are immediately noticeable, advanced lighting techniques can benefit your auditorium even after a performance has ended. Light surrounds us, and it continues to impact us in physical and emotions ways. Color influences our interpretation. Light itself affects our biology, providing psychological and physiological benefits when implemented correctly. It can also increase safety, visibility and functionality in nearly every area of your venue, inside and out.
As you consider your AVL system needs, you must remember the lighting portion of the design is much more expansive than the audio and video components. There are four lighting categories all venues should take into account when determining which AVL equipment they need.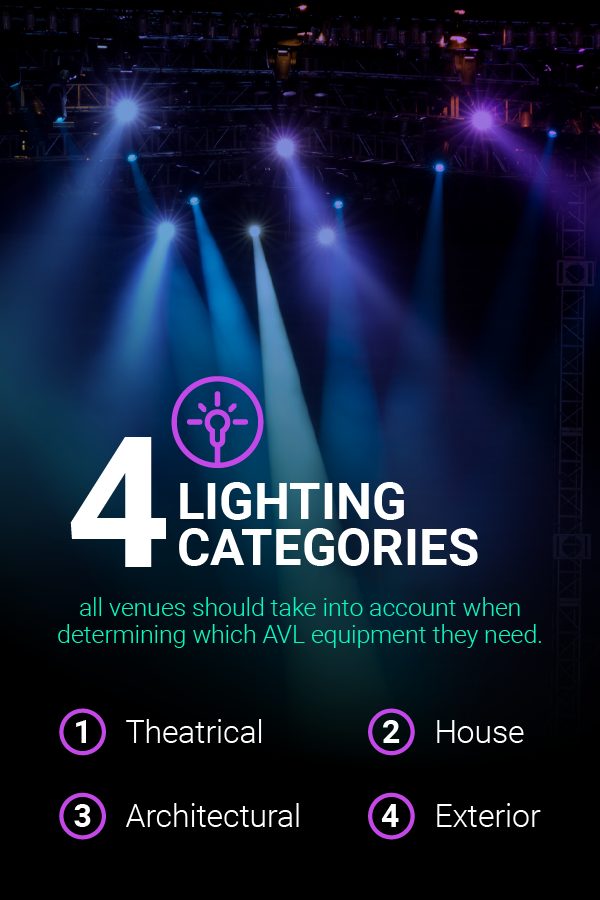 Theatrical: Every production or performance that takes place on your stage requires specific lighting. Engagements like seminars and ceremonies may require minimal lighting, while musicals, theatrical productions and worship services may require a diverse assortment of lights. These lights add to the events on stage, helping audience members stay connected, engaged and immersed in the message. Clear visibility, combined with appropriate lighting colors and temperatures, also helps performers remain focused and safe while they're on stage.
House: Stage lighting is crucial, but house lighting should also be a top priority. Direct and indirect house lighting creates a functional space that allows audience members and venue personnel to move throughout the area safely. Though theatrical lighting should be the primary focus during events, indirect house lighting also plays a role in minimizing external distraction, while providing adequate visibility to navigate the space when necessary.
Architectural: If you use lighting to showcase your stage, why not implement it in ways that showcase your facility as well? Architectural lighting can leave your audience in awe before the show begins. Installing quality lighting sources throughout the interior of your building to generate an atmosphere that makes your guests feel comfortable. That includes integrating lighting solutions into hallways, lobbies, bathrooms and other gathering spaces that create a uniform environment that caters to the appropriate mood.
Exterior: Similar to architectural lighting, it's also wise to consider all other exterior lighting as part of your complete AVL design. If many of your events take place at night, you'll want to maximize safety and convenience by installing exterior lighting around the venue's property. Exterior lighting can define or highlight specific features of a building, such as doorways, signage or landscaping. Correctly used lights can dramatically add color and texture to the facade, putting the venue itself in the spotlight.
Not all lighting is adequate for all venues. Illuminated spaces can help or hinder a space, and specific equipment and components can work together to create ideal illumination. For example, white tuning and color tuning techniques can create optimal lighting conditions in specific contexts. Choosing LED, OLED or light-emitting polymers instead of fluorescent or incandescent light sources can generate light over a longer period, while consuming less energy. Tactfully integrating a mix of theatrical, house, architectural and exterior lighting showcases your venue in the best light possible.
Audio, video and lighting — three separate elements combine to deliver a sensory experience like no other. When integrated into a dynamic AVL design, these essential systems can transform any public or private space into an unforgettable venue. If you're ready to offer your audience unbelievable audio, visual and lighting quality, Illuminated Integration is here to exceed your expectations.
How Illuminated Integration Can Help
Knowing how to determine what AVL equipment you need is vital information that will help you design an appropriate AVL build for your venue. Your next step is to discover how you can bring your AVL vision to life. At Illuminated Integration, we specialize in designing AVL systems that achieve a unified user experience. From initial concept through project completion and beyond, we'll make your AVL vision a vibrant reality.
Design and consultation: Let's showcase your events in the best way possible. Together, we'll sit down and discuss every element of your vision. As we create the AVL design, we'll make sure each component of the build provides your audience with the highest-quality experience. We can design a dynamic and versatile AVL system to meet the needs of all venue sizes and events.
Implementation and installation: AVL is not a DIY project. Let our experienced team install and implement every aspect of your system safely and securely. We believe every project is possible, and we can creatively overcome spatial or design challenges to deliver a seamless experience. We'll teach you how to use and maintain your new audio, video and lighting equipment once we've installed it.
Customization and support: You need a dynamic new AVL system today — but what will your venue require tomorrow? We can customize your design with forethought for the future, providing you with a complete system that can be altered as needed. Our experts will offer you support even after your AVL design-build is complete, so you can update and modify components as the needs of your venue evolve.
We're ready to embrace new opportunities of all sizes. If it's time to transform your space with an amazing AVL system, let Illuminated Integration exceed your expectations today.
Determine the Right AVL Equipment for Your Venue With Help From Illuminated Integration

Don't settle for an AVL system that can't meet your needs. Let the design team at Illuminated Integration help you select the audio, video and lighting equipment that will bring your vision to life. Our team is ready to help you create a new AVL design from square one or modernize your current AVL system to dramatically enhance your productions. With decades of combined experience, we can design an AVL build that caters to the needs of your unique space.
AVL design can be challenging, especially if you're unsure how to determine which AVL equipment you need. Rest easy knowing your AVL system design came from a team of experts with professionally integrated dynamic, versatile AVL systems into venues of all varieties. Contact Illuminated Integration today and let us help you design an AVL system that creates a sensory experience your audience will never forget!