If your ministry or parish is considering upgrading or building out a new audio, video and lighting (AVL) system for the church, you may be wondering what the first step in this process is. Every aspect of your place of worship should be catered to the members of your church, allowing them to gather together and enjoy an uplifting experience through scripture. AVL integration systems can enhance this spiritual experience. When the time comes to contact an AVL team, be mindful of your current and future plans.
Many churches make one or both of the following mistakes when deciding to implement an AVL system into their worship services:
1. They Wait Too Long
Life moves fast. It's completely understandable that a church may not sit down to seriously consider their growing AVL needs for years, especially churches that host worship many times a week or those which are highly active in the local community. Due to time or financial limitations, a church may continue moving AVL discussions to the following year. What they may not realize is that while their worship services are growing, their need for AVL is growing too.
2. They Don't Consider How AVL Can Help Accomplish Their Goals
AVL integration can do wonders for worship and other services within the church when it is implemented properly. However, some church teams may not realize how important an AVL system is. Whether they're designing a new system or upgrading an existing one, the audio, video and lighting component of your services can enhance the experience and deliver your message in a more impactful way.
Thankfully, even if your church has tabled the discussion for years and is just now taking the steps to new AVL integration, an experienced and talented AVL team can integrate audio, video and lighting into your center of worship and provide an inspiring experience for your parishioners. As we've helped clients throughout a spectrum of industries accomplish their AVL goals, Illuminated Integration understands that every AVL project is unique. We've created a brief how-to guide that will help you through the process for a new church AVL project.
When Is the Right Time to Bring in an AVL Team?

The process for a new church AVL project is an exciting undertaking that will light up your ministry in more ways than one. The thought of enhancing your worship experience can be uplifting, and an AVL system opens up worlds of potential for other possible events or services you may want to host within the church. If you and your ministry are ready to renovate your worship area, you may believe that now is the right time to bring in an AVL team.
It's likely that your worship facility falls under one of two categories:
1. Your Church Is Completing a New AVL Build
AVL integration is becoming more and more popular within worship centers as ministry leaders discover how well an AVL system enhances each service. It redefines the experience without compromising the message. It engages men and women of all ages without distracting them from their prayer. An AVL system is a great way to elevate your service with equal amounts of reverence and entertainment.
2. Your Church Is Upgrading to a New AVL System
You already know how much of a difference an AVL system makes in your worship services. The combination of colorful lights, echoing sound and crisp media have transformed the way your congregation gathers to give praise. Your old AVL system may have been a perfect solution at the time, but now your church is in need of an upgrade.
Other reasons may factor into your decision to commit to this plan. Because of the structural component to integrating an AVL system into the facility, many churches may choose to build or upgrade their system at the time when the building itself is due for renovations. Bringing in an AVL team before this construction begins allows them to assess your needs and integrate the system into the new construction plans. The beginning and ends of the year may open up the financial opportunities required to accomplish this goal.
Whether you're upgrading your existing AVL system or you're designing a new one from scratch, it's essential to bring in the AVL team at the right time. If your facility has a construction project planned out, make sure you bring in the AVL team before its completion so that it does not create excess challenges or expenses. Most importantly, don't reach out to an AVL specialist until you've gathered all of your information and have a project plan in place.
What Information Do You Need When Consulting With an AVL Team?

Although you may believe that now is the right time to bring in an AVL team and learn how to start a sanctuary renovation, you need to first make sure you're fully prepared to begin this project. The process for a new church AVL project can be a significant technical undertaking which can become complicated or delayed if a proper plan isn't put in place. Before this process begins, you'll need to gather all of the information these AVL companies will need to know.
There are a lot of talking points you'll want to discuss during your AVL consultations. Your church is a place of love, friendship and refuge for many, and it's understandable that you'll have plenty of questions for each company. Though you'll be able to address these thoughts during the interview — and many of your questions will likely be answered during each company's introductory presentation — you should have the answers to three vital questions before you sit down with an AVL specialist:
1. What Is the Church?
The answer to this question is a definition of your ministry's values and beliefs.
A church is more than a place — it is a people. It is the embodiment of the love, devotion and strength a community shares. Though every church acts as the heart of a congregation, each place of worship is unique in its own special way. The heritage and history, the parish and parishioners and the cultures and customs of each ministry influence its values and beliefs. When you clearly define your church's values and beliefs, an AVL company will be able to reflect those features in their design.
2. What Is the Facility?
Look into your present and future structural limitations.
An AVL company can turn your vision into a reality, however, it's essential that you first create a vision that is practical and realistic for your current setting. Some churches are old, historical buildings that cannot accommodate certain renovations. Other centers for worship are newer and may already have certain structural elements in place that could help you achieve your dream. Find out all you can about the physical building and discover your structural limitations. This allows you to be realistic about your expectations for an AVL design-build.
3. What Is the AVL Budget?

Assess the finances available to complete your AVL vision.
The budget for your AVL design is obviously an important factor, however, some churches may only focus on how much they have to spend. With any budget, you should also consider how much you'll need to sustain the project after installation and how much you'll potentially save in the long-term if you make certain adjustments. For instance, some AVL companies will provide complementary ongoing support to their AVL systems while others may require periodic software updates or hardware upgrades that require additional costs.
Along with setting a budget, you need to make sure you stay on budget throughout the process. AVL companies can work wonders with any budget, however, you may be tempted to exceed your budget to add on additional components or features that you didn't originally plan for. This can create other problems further along the process. Abiding by a set budget minimizes risks and allows you to responsibly manage the church's funds.
Though these questions are few, it is critical that you can confidently provide answers for each one. Knowing the church's values, the building's capabilities and your dedicated budget will help you responsibly manage this process. However, churches embarking on their very first AVL build may not know these answers. Thankfully, many AVL companies have experience implementing AVL systems in other centers for worship. These experts can help you identify the answers to these questions and how those answers will impact the final AVL design.
How to Identify Credible AVL Companies

The process for a new church AVL project can be completed by any number of AVL specialists. From small companies to large corporations, each AVL company may specialize in the integration of audio, video and lighting equipment into a range of spaces for a variety of applications. With so many options available, it's understandable that you'd want to approach only credible companies. Illuminated Integration has gathered a few tips to help you find credible AVL companies that you may want to hire:
1. View Their Portfolio
Any successful AVL company will be proud of their work and will want to put their efforts on display for potential clients to see. Viewing their previous work will give you your first glimpse into their capabilities and style. Of course, their presentation isn't everything, but a credible AVL company won't hide their completed projects from potential customers.
2. Read Their Testimonials
All companies will claim to be reliable and a cut above the rest, which is to be expected. However, their clients may have a different and more objective view of their products or services. Read their client testimonials on their own website and through third-party sites like forums or blogs. Credible AVL companies will allow customers to post their feedback regardless of rating. If you begin to see a negative trend, perhaps they aren't credible.
3. Gauge Their Interest in Your Project
Though you may not be able to determine this before your consultation, a reliable AVL company will be sincerely interested in helping bring your vision to life. They'll respect your budget and work with you to achieve maximum results that align with your financial status. A credible company's goal won't be to overcharge or exploit your budget. They'll be sensitive to your limits and realistically match your budget with your expectations.
As you begin to interview AVL companies, you'll get a sense of what the standard offerings and price ranges are for the type of project you're looking to complete. Almost immediately you'll be able to tell which are setting their prices too high and which may not measure up to your own expectations. Trust the advice of others and look for a company that values transparency with their customers.
How to Start the Process for a New Church AVL Project

As with any project, the best way to ensure success is to first create a thorough plan that outlines all of the necessary steps you need to take to achieve your goal. The AVL company you choose is the most significant factor that contributes to this goal. Now that you know how to identify a credible AVL company, it's time to begin the process of researching and reaching out to specific AVL services. Before you start creating a shortlist of companies you found, acknowledge your available resources first.
One of the best ways to gain honest feedback and valuable insight is to ask for advice from those who have used an AVL service before. Perhaps other churches or centers for worship have worked with an AVL company previously. There are many other buildings around your area that may also have implemented an AVL system into their facility. Consider reaching out to public libraries, community centers, schools, entertainment venues or other areas where your community gathers together for live performances or multimedia events.
Once you've received feedback from those you trust, conduct your own research into these companies and investigate other options that may be available to you. After you feel comfortable with the amount of information you've gathered, it's time to make your list and begin the selection process.
1. Choose Your Church Team

Before you reach out to various AVL companies, you should determine which individuals will also be on this implementation team. The men and women that make up this team should be directly involved in specific areas of your church. Those who manage the church's finances, those who manage and conduct the worship services and those who provide facility maintenance should all be in attendance. These representatives should be those that will either engage with the AVL system regularly or be responsible for the system after its integration.
Your goal should be to create a dedicated and manageable team that will see the church AVL process through from ideation to full implementation. Consistency in your team is key for a number of reasons that will influence the success of the process, especially in these initial stages. Ideally, this team should be formed before the creation of your company call-list so that everyone can agree on which prospective services to contact. Getting these individuals involved during the planning stages also strengthens their investment in the project.
Aside from your core team, it is also wise to seek out advice from those who have a specialized knowledge of your plans or a specific need that should be fulfilled. For instance, you may ask your worship band leader to be a core member of the group. This individual could take a moment to sit with the entire band and discuss their opinions. They may shed some light on the more minute details or challenges that your team needs to know before beginning the design process.
2. Meet With the Companies
With your team in place, it's now time to start engaging the AVL companies on your shortlist. Scheduling consultations with these services should be done responsibly — you want to make sure that you're giving your team enough time to consider all options thoroughly but not too much time that would delay your project completion date or prevent the process from even beginning. It's best to set a few concrete dates for your team to work with, giving the group a deadline to come to a decision.
Don't schedule company meetings back to back. Your worship area renovation is an investment that needs to endure for years to come which means you need to be sure you're choosing the company that's best suited to bring your vision to life. Try to create a plan that keeps your schedule consistent. For instance, if you're scheduling consultations with AVL companies on Tuesdays and Thursdays, build in time slots on Wednesdays and Fridays for the team to come together to have a follow-up discussion about the meeting.
3. Keep the Playing Field Level

Each company has their own way of pitching their services and will want to demonstrate their abilities in a variety of methods. This is a benefit to you in many ways. The AVL process is inherently technical, and some individuals on your team may not have been exposed to these types of systems before. Viewing demonstrations through a variety of mediums increases the opportunity for your entire team to fully comprehend and understand the subject matter. Also, many demonstrations will also show you exactly how these systems work.
However, these demonstrations could also give an unfair advantage to one consultant over another service. When the time comes to stage your interviews, you want to keep the playing field level for all companies involved. In one sense, demonstrations or lack thereof can distract you from your mission. You need your AVL system to achieve your desired results. If you're distracted by Company 1's video presentation or feel that Company 2's lack of media aid leaves you unfulfilled, this could skew your judgment.
To best handle these situations, have a plan in place for what you will need to see or discuss before making your decision. For instance, you may want to see before and after pictures from previous projects they've completed. No matter what you may request from these companies, make sure you offer all the same opportunity to demonstrate their expertise in the ways you need. This will allow you to make fair comparisons and eliminate some needless bias.
4. Provide the Same Specs for Each Company
If there's one step in this process that relies on the consistency and decisiveness of your group, it's Step 4. Since Step 1, your group has built the foundation for this AVL project. You've collectively assessed the needs and limitations of your facility and have thoroughly evaluated your plans to determine the exact specifications this integration requires. Though there is always a chance that you will need to make specific alterations to the original plan, the fundamentals shouldn't change. Your desired specs shouldn't change at this stage.
Consistent communication is a vital resource for any project. As you meet with each company, you need to make sure that your group is clearly communicating the same information during each consultation. A helpful way to do this would be to draft a specs sheet that outlines everything your project needs. By providing each client with the same document, you make your expectations and needs clear. This also ensures that your team stays focused on the same goal when discussing AVL capabilities with each service.
Consider what would happen if you allowed your specs — which are essentially your needs — to be negotiated during the consultation process. Each company may specialize in one element of the AVL design. For instance, perhaps Company 1 has a lot of experience in lighting and rigging while Company 2 caters heavily to video production. Although Company 2 delivers amazing video capabilities, their audio limitations may not meet your requirements. If you allow your specs to be adjusted, you're allowing the quality of your worship service to be compromised.
5. Ask Each Company for the Same Requests


As you continue meeting with AVL companies and learn how to start a new worship area build, you'll notice that the consistency and clarity you've relied on in the previous steps continue to factor into your success. You've made your needs clear and have created a level playing field for consultants to demonstrate their process for a new church AVL project. Having an established goal in focus is now enabling you to keep progressing towards your goal.
One of the last steps to take before you finally choose your AVL company is to make sure that you're asking each company for the same requests. There are many ways of how to start a church AVL project and each company may approach this process differently. To minimize chances of confusion or misunderstanding between your team and the AVL design company, you want to continue your consistency and clarity by creating a list of requests you need from each company.
If you begin requesting different items from each company, you won't be able to truly compare them on an even scale. For example, if you ask for Company 1's quote to be broken down into line items, you should also ask Company 2 for the same. If Company 2 offers warranties on their products, you'll want to discover which warranties Company 1 offers their clients.
Identifying the AVL Company Best Suited to Your Church AVL Needs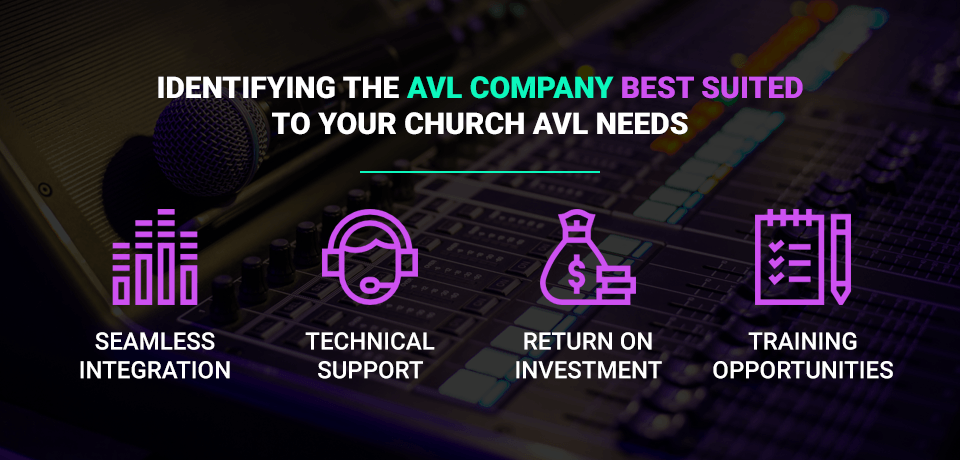 Though the interviewing process is one of the most informative and engaging parts of your initial church AVL process, Illuminated Integration understands that you may be torn between a few options. We consider this a positive challenge — you've got a clear plan in place and you've found many AVL services that can affordably help you achieve your vision. Your next task is not to determine which of these companies is the best, but rather, which of these AVL specialists is best suited to meet your project needs.
Looking back at your team notes, you've now got to assess how well each service can meet your goals and your budget. In addition to these factors, we believe that there are a few other areas that you should consider to make the best decision possible. Consider the following points:
1. Seamless Integration
No matter when you implement a new AVL system, technology will continue to evolve. Specific hardware and software applications may change over time, requiring your AVL system to adapt to technical specifications. You need an AVL company that provides you with the tools that can be easily upgraded or updated as the years pass. They should also be able to integrate some of your old AVL equipment into the new design to save you money.
2. Technical Support
Their installation may be perfect, but when you're confronted with an AVL issue in the future, you'll need a professional to guide you through the obstacle. AVL companies that don't offer ongoing tech support are leaving their clients without the resources they need to continue using their audio, video and lighting equipment successfully. Your worship service is important to you — you need an AVL company that places your church's AVL system as a top priority.
3. Return on Investment
Long-term technical service and support is just one value-added component an AVL company can provide. You'll want to choose a company that actively protects your investment by offering warranties or maintenance services that will keep your equipment in proper working order for years to come.
4. Training Opportunities
Though some members of your worship services group may be well-versed in the operation of AVL equipment, it's wise to educate as many people as possible about this investment. A credible and reliable AVL company will want you to operate their equipment effortlessly. Many companies will provide your team with the training they need to use the tech safely and simply.
What does your ideal AVL system require? Do you want a generic set-up that gets the job done or do you want an original design that caters to the needs of your facility? Questions like these will help you determine which AVL company is best suited to achieve your goals. Your church is unique and the approach to your AVL integration must be just as distinct. You need more than average — you need turnkey solutions that enhance your message. You need an AVL integration system from Illuminated Integration.
Why Choose Illuminated Integration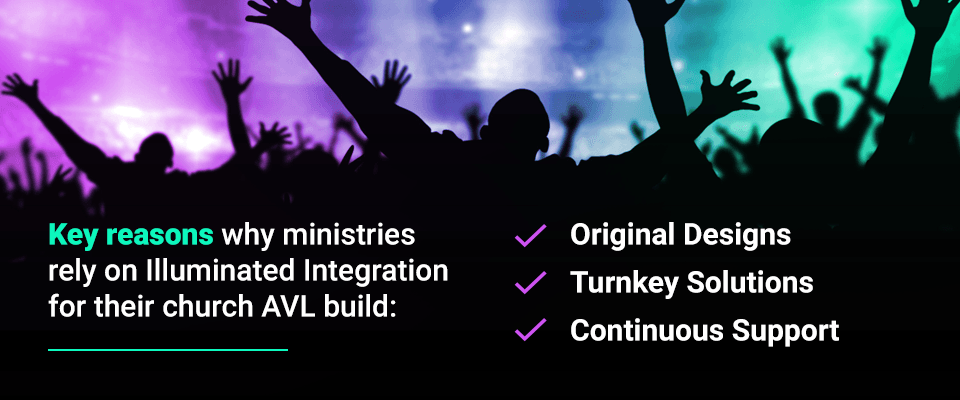 Choosing the right AVL company for your church project is critical to its success. The design experts at Illuminated Integration realize how important this decision is and want to assure our customers that your unique vision can be achieved. We believe in creating not just a system, but an immersive experience. Our team is ready to build a design that is versatile, seamless and integrated into your worship services with ease. There are three key reasons why ministries rely on Illuminated Integration for their church AVL build:
1. Original Designs
A worship area is more than a room — it's a space for followers to unite as one congregation and grow together through scripture. We will embrace your vision and design a one-of-a-kind audio, video and lighting solution that captures your ministry's values and showcases the heart of your church. Each of our designs is as unique as those that create your congregation and is catered to your specific needs.
2. Turnkey Solutions
To achieve an original design, we need an organic solution that meets your AVL desires. Our entire church AVL process, from the first creative drafts to the successful implementation of the system, progresses step by step with your involvement. Our team of consultants will work side by side with you to ensure that every decision helps bring your vision to life.
3. Continuous Support
You've got a ministry to grow. Between your worship responsibilities, community engagements and the routine checklist of tasks that need your attention, the last worry on your mind should be your AVL system. We're pleased to provide continuous support to all of our clients. Whether your AVL system is a day old or a decade old, we'll be there to answer all of your questions, offer our advice and examine your system long after installation.
At Illuminated Integration, we're dedicated to redefining the AVL experience. We believe that your church audio, video and lighting system should be designed with one goal in mind — to create a unified experience for your congregation's worship service. We've installed thousands of lighting fixtures alongside hundreds of video displays and speakers to achieve unique designs that meet the exact needs of our clients. Let's work together to enhance the worship experience and strengthen your church. Contact Illuminated Integration today to schedule a consultation with our team of designers.