How to Plan a Conference: Your AVL Considerations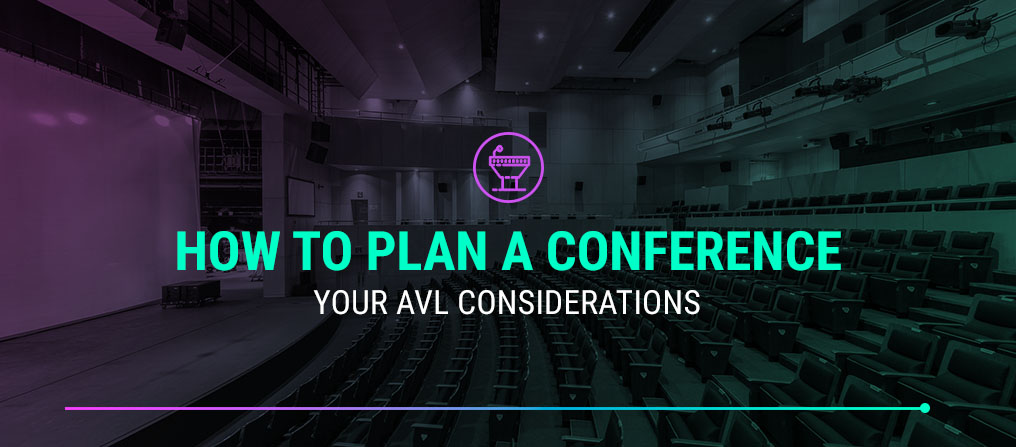 Organizing a conference and need some ideas for planning a successful and memorable event? This article is for you. Whether you're planning an indoor or outdoor conference, poor audio, lighting and video (AVL) provisions can make the best conference preparation futile.
To help you ensure your AVL needs meet your crowd's expectations, we lay out everything you need to know to host a remarkable conference experience for your attendees. And to make the conference preparation process easy for you, we're sharing an AVL conference checklist you can use for your planning. This checklist will help you dot every "I" and cross every "T" for crucial technical preparations.
How to Plan a Conference
Planning a conference includes many moving parts that you need to put together effectively for a successful event. These can include financial, marketing and technical considerations, as well as people management. Each of these components must work together in the conference planning process to facilitate a memorable, productive event.
Below, we lay out a 10-step process you can follow to ensure a successful conference by all means. Consider following the steps chronologically for the best results.
1. Pick the Focus Topic for Your Conference
At this stage, you will provide an answer to the question, "What topic will the conference focus on?"
This is the theme of your conference. And contrary to what you may think, your theme determines more than who you invite to speak at your event.
For example, your conference theme affects the people you invite, the venue you choose and the time of the year you decide to host the gathering. Your topic of focus also determines who you reach out to for sponsorship, what kind of volunteers you attract to work with you and how you market and promote your conference.
For instance, reaching out to soda manufacturers for sponsorship may not be the best move for a conference on diabetes and blood sugar control. Also, using unrecyclable materials in a conference on sustaining the environment may be shooting yourself in the foot.

2. Assemble a Conference Planning Team
You'll need to assemble a team to help you put all the pieces of your conference together. When should you create a team to help you get your conference planning tasks underway?
It's best practice to start planning your conference six to 12 months before you intend to host it. This timeline will provide you and your team with enough time to leave no stone unturned in your preparation and create a solid plan for your event to delight your attendees.
Behind every successful conference is a strong team. You want to ensure you get the best professionals to work with you.
Here's a list of the different people you may need to hire to plan and execute a successful conference:
Technical experts: Technicians will handle your venue's fittings, riggings, audio, video and lighting needs before and during the conference.
Marketers: Marketers get the word out about your conference and help answer questions prospective attendees may have about it.
Promoters: If you're not funding your conference in-house, a team of promoters will help you reach out to sponsors for money.
Enablers: Enablers will help you search for and reach out to the right speakers for your conference.
Logistics and planning managers: These individuals will help you plan the conference and ensure everything is in place.
Facilitators: These people could include ushers, moderators or anyone else who helps ensure everything goes as planned on the conference day.

These positions can be filled by volunteers or paid professionals. For example, you can get volunteers to help you handle your audio, video and lighting setup, or you could hire the services of an AVL company like Illuminated Integration to manage all your AVL needs. Working with an AVL company gives you the peace of mind you need to focus on other aspects of your conference that only you can handle.
3. Prepare a Conference Plan
With the help of your A-team, start putting the pieces of your conference together.
Your planning process could include choosing a venue for your conference, making a list of the speakers you want to invite and putting a strategy together to reach out to them. You'll also want to develop a marketing and promotional plan to reach out to attendees.
Your conference plans could also include provisions for accommodating your speakers or attendees who are tuning in from remote locations, especially if the conference will go for more than a day.
Additionally, make sure you choose the best time of the year to host the conference, resources for refreshments and catering and all other things you'll need to put in place to ensure your event runs smoothly.
4. Make a Budget for Your Conference
Put a price point on your conference to keep your spending in check. Creating a budget will affect several different areas of your event.
For example, your budget determines the kind of venue you choose and the attendance size you plan for. If your conference is paid attendance, your budget will help you determine the right price points for the tickets. Additionally, if you plan to reach out to sponsors for your event, your budget will serve as your fundraising target.
It may serve you well to give space for the unexpected in your budget. For example, to ensure a successful conference, you can include some surplus funds in your budget to accommodate emergencies as you execute your event plans. That way, you will still have enough money left over to accommodate for any unforeseen issues or considerations that may come up.

5. Pick a Date for Your Conference
It's advisable to choose a date that's at least six months away from when you start planning the conference. Putting at least six months between you and your conference will ensure you have enough time to curate everything needed to ensure a successful event. Nothing destroys a well-planned conference more than eleventh-hour execution.
Your chosen date will depend on your target audience and speakers. For example, the day of the week you choose for a conference organized for students may differ from the one you select for a conference targeting the working class.
On a general note, you may not get the best results from holding your conference on a weekend, as people may already have plans. However, holding a conference close to the weekends, such as on Thursday or Friday, may serve you well.
Here's an important tip for picking a date — don't schedule it on or near public holidays when your potential attendees may be on vacation. Also, try to steer clear of festive periods or huge public events, as these may negatively affect your attendees' ability to get to your conference venue. It can also make it difficult for prospective attendees to make up their minds between coming to your conference or going to another public event.
6. Book Speakers and Your Conference Venue
Now that you have a date, a topic, a budget and the list of speakers you need for your conference, it's time to book your venue and presenters.
Your venue includes both the hall — which could be a campus hall, hotel or dedicated event center based on the crowd you're expecting — and the audio, video and lighting setup. Working with a professional AVL company will ensure you can turn any hall into a true conference venue and enjoy high-quality visuals and audio.
After booking your venue, it's time to reach out to your speakers. Ensure you have presenters who fit into your event theme and share a common interest in your conference topic. You might consider having a popular, well-respected person as your keynote speaker to kick off the event, which can help you easily get more speakers to agree to come to your conference.
As you get in contact with potential speakers, ensure you understand their requirements, whether they require a certain payment amount, booking of their flight and hotel, special presentation equipment and accommodations and more. You want to provide for their needs so they can have the best, most comfortable experience possible and be more willing to build a consistent working relationship with you.

7. Create the Agenda for Your Conference
Create a detailed step-by-step agenda for the conference day. Your agenda depends on the event duration, your target audience and what the attendees would love to learn.
To create a valuable agenda that will delight your attendees, step into their shoes and consider what subjects they'd be interested in. You can also reach out to them directly through surveys or other means to find out what topics they enjoy and what their ideal conference day would look like.
Run quick surveys on social media to gather insights from your target audience — many people use social media, making it easier to target a wider audience. For example, over 3.6 billion people used social media in 2020. You could also review discussions around your conference theme on social media to know what people are saying about your topic. This knowledge can assist you in building a valuable agenda for your conference.
Keep in mind that many conference organizers get their agenda wrong by introducing speakers in the wrong order. Create a lineup for your presenters that helps you build upon each one's quality of work and popularity.
Also, plan your conference refreshment and break times and weave them together properly with other agendas to ensure they complement one another.
8. Promote the Conference to Get Sign-Ups
It's time to send the word out about your conference and all you've got in store for your attendees.
You'll likely want to build a website or an event page for your conference. The goal of the website or page is to educate prospective attendees about the conference and get sign-ups.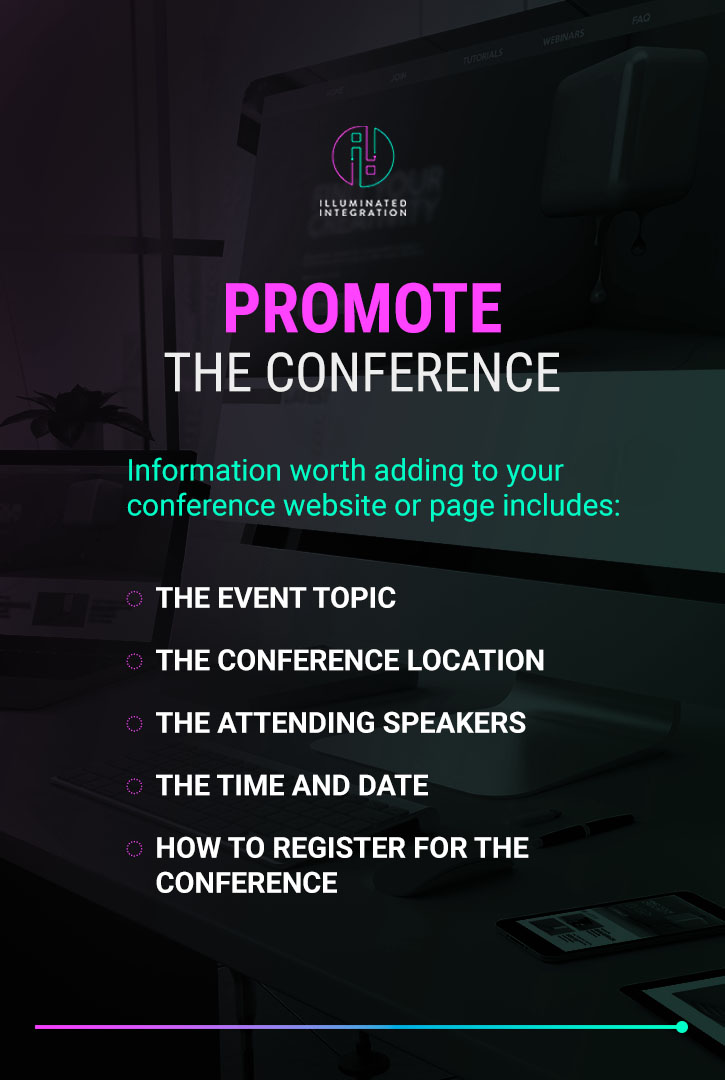 Information worth adding to your conference website or page includes:
The event topic
The conference location
The attending speakers
The time and date
How to register for the conference
Your marketing team should use your conference website or event page in all your online and offline marketing campaigns. They should share the link to the page on social media sites, blogs, ads, flyers and more. Consider using a QR code for physical promotional materials like flyers so people can easily access the webpage. Using short and memorable links can also make it easy for people to remember the URL and type it on their browsers.
Your event will only get good attendance if you market it well, so spend as much time and resources on spreading the word about your conference as you spend on planning it.
9. Address the Last-Minute Details
As the registrations flow in, now is the perfect opportunity to cross all your Ts and dot all your Is.
You can take the registration process as an opportunity to get attendees' opinions and figure out any final details they'd like to see in the agenda and what their expectations are. Doing this helps you properly serve and satisfy them.
Another important part of last-minute preparation is to make sure your venue is ready. You can take final rain checks with your team on your plans, venue arrangement and AVL equipment. Run through your strategy to ensure everything is in place.
10. Host the Conference and Gather Feedback From Attendees
Congratulations — at this point, you're ready to host your conference and awe your attendees.
After the conference, your work is not yet done. Reaching out to attendees to get their feedback on their experience at your event lets you understand what worked and what didn't so you can better plan for future conferences.

Audio, Visual and Lighting Needs for a Conference
No matter how much work you do on the other parts of your event experience, a lackluster audio, visual and lighting strategy can break your conference and make even the most popular speaker of little benefit to your attendees. That's why it's essential to have the best-quality professionals and equipment for your AVL setup.
Here's what you should consider for your conference's custom audio, visual and lighting arrangement.
Audio Needs
The audio systems you'll need depend on the size of your conference.
For a small audience, a simple sound system may meet your audio needs and get everyone engaged during your conference. However, for a large audience — like a big stadium with thousands of attendees — you'd need a more complex audio system.
Note that no matter the complexity of your audio system, the goal should be to ensure the audibility of your presenters and smooth communication between your audience and key speakers.
Whatever the size of your gathering, working with an expert AVL company for your conference will help you ensure every attendee is within a clear and engaged hearing distance of your presenters.
Visual and Video Needs
Depending on how many people attend, the video display you select may range from a simple TV screen to an array of projectors and large-screen setups.
For example, for a small audience of fewer than 50 attendees, a TV screen big enough to serve your sitting arrangement may be all you need. But when your attendees get into the hundreds, thousands and tens of thousands, you may be looking at a more complex array of projectors and large display screens to aid presenters in communicating their points to your audience.
With our video design services and over 10 types of video components, Illuminated Integration will help you ensure you don't miss any key visual setup elements that may affect your attendees' experience.
Lighting Needs
Some conference organizers may not take their venue lighting as seriously as they should, as they figure the existing lighting will be fine enough to do the job. However, proper illumination is an essential thing to have on your setup checklist. Lighting adds aesthetics to your venue and ensures your audience can see their surroundings and effectively participate in your conference.
Ensure you get adequate lighting around your conference venue so that you don't overlook key lighting positions and setups that may affect visibility. You want to ensure your attendees have the best view of the presenters and the room around them.
AVL Checklist
We've covered numerous points in this guide to help you plan and host a successful conference. Condensing everything into a simple checklist may help you make sense of all the information you've read so far.
Consider this post as your conference planning guide — with a special focus on your AVL needs. This conference audio, visual and lighting checklist will help you ensure you've covered all ground with the technical aspects of your event's AVL needs.
Are you allowed to bring in your own AVL company or vendor?
What is your anticipated time frame for setup?
Is there a reliable power supply to the venue?
Is the venue soundproof?
Are there working elevators, scaffolds and docks for moving equipment?
Are there adequate lighting fittings, or do you have to bring your own?
What type of sound system do you need?
Will the lighting or other venue features affect visual displays?
Do you have the right equipment your speakers need to present?
Is internet provided in the venue? If not, have you made provisions for an internet connection?
Are the controls for your audio, lighting and visuals intact?
Do you have a technician to help you handle emergencies?
This checklist will you get ready to host a memorable conference. If you need additional assistance with setting up your AVL equipment, consider reaching out to Illuminated Integration. We've worked on numerous projects in many industries and know exactly what you need.

Hold Your Conference Without a Hitch
When it comes to having a successful conference in every aspect, just booking the best speakers or choosing the ideal venue isn't enough. You also need a strong team and must ensure you have all lighting, visual and sound technicalities intact and locked. That's what we help you do at Illuminated Integration.
We assist you in ensuring you have a successful and memorable conference by installing any visual, audio and lighting equipment you need. We are an AVL company that can serve any kind of conference and any size audience or venue.
This is how you set your conference up for success when you work with Illuminated:
Any project size: We can work with a small meeting of 20 people to events with tens of thousands of attendees. We have what it takes to meet any project size or complexity.
Seamless and unified experience: We offer turnkey audio, video and lighting services. Think of us as your dedicated in-house AVL technical team.
Custom project design: We design every project from scratch — we don't recycle old designs from past clients.
No "one-size-fits-all" solution: Our services are tailored to your unique conference needs. We don't use templates.
Continued support: We don't leave you to dry after helping you set up for your conference. We offer consistent support so you can enjoy our solution.
We are more than ready to help you with your next project. Contact us to speak with our team and ask any questions you may have. We will evaluate your event plan and offer the best audio, video and lighting solution.