What Is a Hybrid Church Service?

People have drastically changed how they engage with their congregations in the last several years. In one 2022 study, 26% of all adults who reported attending church in the past six months said they had attended both in-person and online services, with another 20% saying they had attended only online. With those numbers even higher for millennials, hybrid worship services may be a significant part of the future of the church.
Embracing a hybrid church model can be an effective way for your church to engage and support members and attendees in your community. If your church is considering adding a hybrid service to its program, there are several considerations to keep in mind to provide the best experience to the people you're trying to reach.
What Is a Hybrid Church Service?
The term hybrid church refers to a service conducted partially in person and partially online. Compared to traditional worship services, which are entirely within the church's facility, a hybrid church extends some or all of the worship service into the digital world. Whether a hybrid church service consists of sharing a recorded service on social media or is one component of a full-fledged online ministry, the model shares the worship experience with more people than those inside the church building.
At their simplest, hybrid worship services involve recording and posting or livestreaming a worship service to an online platform. A hybrid church setup can also include additional services like engaging attendees through social media, conducting small group meetings online or doing live events on social media. Adding these activities to a hybrid church model creates a holistic worship experience for attendees and community members.
Whatever a hybrid ministry entails for a congregation, embracing a hybrid church setup requires more than investing in the tools and technology needed to share your worship services digitally. Creating a genuinely hybrid service means considering the needs of worshipers online as much as those attending in person. It requires contemplating what might be happening in the lives of your congregants that motivates them to engage with your church online. You should then think about what you can do to serve their needs and create a seamless church experience.

Benefits of Having a Hybrid Church Service
Some church leaders may be excited about the possibility of incorporating hybrid worship into how your congregation engages the community, while others could be reluctant to embrace a hybrid church model. You may have people in your congregation who feel that your place of worship isn't equipped to meet the technological or volunteer demands of a hybrid model or that hybrid worship services encourage people to avoid attending in person.
While a hybrid church setup involves special considerations and planning to help your congregation navigate certain challenges, the model can bring significant benefits to worshipers and the community. Consider some of the advantages of offering hybrid worship at your church:
Share Your Message With the Wider Community
It's likely that one of your church's missions is to share its message and faith with the community outside its facility. You likely have community outreach efforts and other events designed to reach the people within your neighborhood or city.
Offering hybrid church services is another way to expand your congregation's reach and get the message beyond your church building. A hybrid church model allows you to share your services with people in your community and worldwide, all through the internet.
Engage With Attendees in a Post-Pandemic World
The COVID-19 pandemic has changed society in the United States in more ways than one, from the number of people working from home tripling between 2019 to 2021 to soaring e-commerce grocery revenue. People are performing everyday tasks online more than ever before.
Remote church services shouldn't replace in-person worship altogether. However, they are key to engaging worshipers in a world that the pandemic has altered. A hybrid church model engages people in the digital world where they may spend much of their time, closing the gap between changing societal needs and your congregation.
Connect With Attendees Wherever They Are
Congregants and community members are sometimes hindered from attending in-person worship by illness, work schedules or weather. If in-person services are the only option your place of worship offers, these people may attend an online service at another congregation or not attend anywhere at all.
Providing a hybrid church service gives members and visitors a way to engage with and join your community of believers, whether they are traveling, sick or snowed in. A hybrid model enables worshipers to still be a part of your service even when they cannot meet at the church building.
Refocus on Mission Instead of Location
When your congregation limits itself to in-person worship, there is a tendency for many people to tie the church's work to its building. While much of the teaching, engagement and service your congregation does is likely to remain connected to its facilities, switching to a hybrid church model allows church leaders to rethink their mission and creatively expand outlets for accomplishing that mission.
A hybrid church setup prompts church leaders to rethink their current methods for reaching their community and engaging members. A hybrid ministry allows your congregation to set new goals and explore new ways of engaging attendees.
Strengthen Your Members' Talents
Your congregation has likely already paid staff and volunteers in charge of various aspects of your worship services. While some of these people could certainly be involved in running hybrid services, the switch also gives others in your congregation a chance to step up, lead and grow their talents.
To run a hybrid church service, you could train volunteers to take over the technological aspect, hold small groups online or perform several other roles. The collaboration involved in organizing and conducting hybrid church services can also bring different teams together and strengthen the unity in your congregation.

How to Set up Your Church for a Hybrid Service
As with any new project, moving to a hybrid church model works most successfully when you have a thought-out plan for the change. It's critical to have the right technology for your hybrid church setup and have a capable team for its implementation.
Many places of worship use audio, video and lighting (AVL) tools to draw attention to the service and help engage attendees. Unless your congregation has used AVL tools before, it may need additional technology to enable a hybrid church setup. For example, you will need recording and livestream setup to post worship services to an online platform. Investing in the equipment and internet connection that can make your hybrid church goals a reality is helpful.
Here are the steps to technologically prepare your church for a hybrid setup:
Create a Hybrid Services Team
Before you invest in any technology, create a hybrid worship implementation team with members and staff from your church. This team should include people who will be involved in deciding which AVL company to use, like those who manage the church's finances and those who will be instrumental in using and maintaining the AVL system after installation.
This group of people will help guide the design of your church setup, selecting AVL technology and implementing the technology into your hybrid church services. You can invite people with specialized expertise or knowledge of certain needs to be on your team, such as a worship leader. They may offer insight into how the stage should be organized or how lights should be used.
Look for an AVL Company With Expertise
Adding hybrid services to your church's traditional worship setup can have a bit of a learning curve, especially regarding technology. Technically savvy members can help, but if your congregation doesn't have those resources, you could be unsure where to start.
Before selecting an AVL business to provide your technology systems, compare multiple companies and how they can meet your specific specs. The right AVL company for your church will provide seamless integration with some of your existing equipment and ongoing technical support.
Your congregation also needs a company with expertise in providing AVL services for churches, such as Illuminated Integration. Illuminated Integration designs, provides and installs complete AVL systems and will even train your implementation team, taking you from idea to reality.
Design the Stage
Stage design is a crucial aspect of creating livestreams that are seen and heard by all. Quality stage design can ensure attendees in person and online can see every aspect of your worship service, hear the words and music clearly and feel that they're truly a part of the service. Look for an AVL company that provides customized stage design to take your church building's unique layout and limitations into consideration.
Stage design involves several projects, including:
Lighting design: Church lighting should be welcoming and help in-person and online worshipers see the entire service.
Audio systems: An effective audio system enhances worship services so attendees can fully enjoy and participate.
Acoustic design: Any noise can affect attendees' concentration on the worship service, making acoustic design essential for minimizing distractions.
Install Video Systems
To create a hybrid church setup, you'll need visual and recording solutions to deliver high-quality audio and video to people watching outside of your church building. Some of the essential equipment for a video system includes recording and projection equipment and livestreaming technologies. You can also tailor your video system to include the following:
LED walls
Laser projection
Pan, tilt and zoom optics
Live production cameras
Seamless camera switching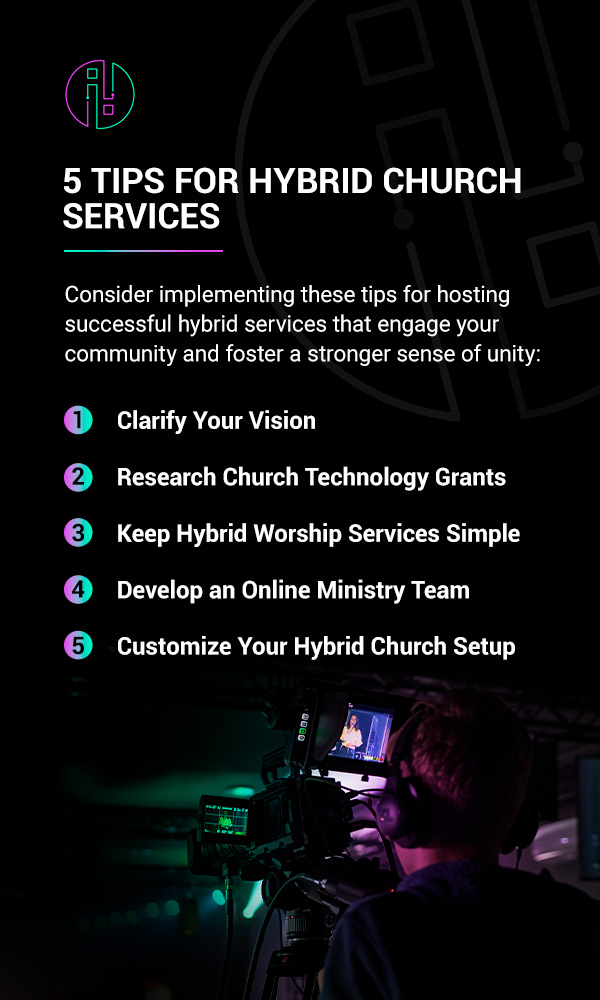 5 Tips for Hybrid Church Services
Adopting a hybrid church model takes planning, deliberation and commitment from your church's staff and members. Consider implementing these tips for hosting successful hybrid services that engage your community and foster a stronger sense of unity:
1. Clarify Your Vision
An important part of successfully implementing hybrid worship services is establishing a vision for the service. When you can clarify exactly what you want to accomplish with a hybrid church setup, you develop a clear concept of how to carry it out and what to include.
Discuss your church's mission with your hybrid services team and other church leadership and why you're implementing this technology. Identify the needs of your attendees and community and how hybrid worship services can meet those needs. Involving more people in your church's vision can also increase commitment among volunteers and staff.
2. Research Church Technology Grants
An upgrade for your church's technology is a valuable investment. If contributions from members are falling short, look for grants for church technology your organization may be eligible to receive.
Church technology grants come from several sources, including nonprofit organizations, private foundations and denominational organizations. Research what grants your place of worship could apply for based on location and denomination.
3. Keep Hybrid Worship Services Simple
Running hybrid worship services can feel overwhelming if your congregation doesn't have the support it needs to maintain the ministry. Keeping the ministry fairly simple is a good way to ensure your staff and volunteers can continue running it for years. For example, rather than launching hybrid church services, online small groups and social media outreach all at once, add one ministry at a time to avoid overburdening your congregation.
Your congregation also needs staff and volunteers to run your AVL equipment for every hybrid service. Illuminated Integration provides thorough training on systems for your church members to set you up for success.
4. Develop an Online Ministry Team
An online ministry team is a group responsible for running your church's virtual ministry. Select people with a talent and desire to serve in hybrid church services, operate AVL equipment and engage with attendees through online platforms. This team could include some of the same people from your hybrid worship implementation team, although it primarily involves people who will deal directly with the hybrid worship services and other online church events like small groups.
Here are a few ideas of ways members or volunteers could serve:
Hosting online forums and chatrooms for small group discussions or prayer meetings
Leading livestream worship
Posting on the church's social media accounts and engaging with followers
5. Customize Your Hybrid Church Setup
Depending on your church's size, worship style and other needs, a custom AVL setup is likely the best way to engage and attract your audience. At Illuminated Integration, we provide custom audio recording and livestream setups for places of worship that create an inviting atmosphere. Our years of design-build experience enable us to develop a turnkey solution for your building.

Upgrade Your Church's AVL Technology With Illuminated Integration
Adopting a hybrid church model can provide several benefits for your congregation, from helping your members strengthen their talents to furthering your mission to reach your community. As you create a hybrid church setup, it's essential to have the right technology and teams in place to achieve your goals.
When you're ready to begin hybrid church services for your congregation, Illuminated Integration is here to help. We are a team of experienced AVL design and implementation professionals that bring our design-build philosophy into every project, designing and installing complete performance systems to create an experience.
For help with your hybrid church project, contact Illuminated Integration today.